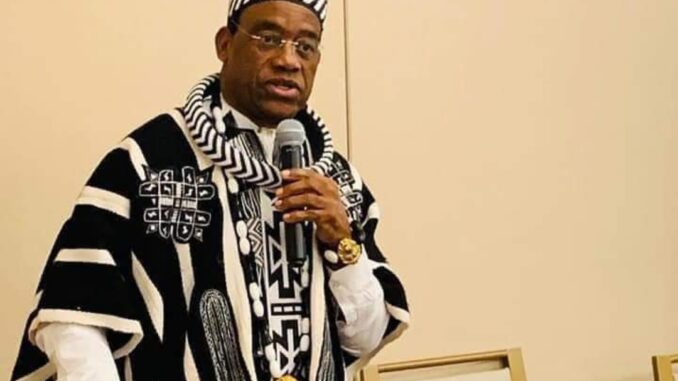 The esteemed Tor Tiv, Prof James Ayatse, has graciously accepted the role of Grand Patron for the Benue State Football Association (BSFA), bringing his invaluable support and expertise to advance football development in the state.
The BSFA board, having recently been elected, extended the invitation to Tor Tiv, who graciously accepted during their royal courtesy visit to his Palace in Gboko, Benue State.
Chairman of the BSFA, Barr Paul Edeh, conveyed that the purpose of their visit was to seek the Tor Tiv's blessings as they prepare to launch a series of football development initiatives across the state, mere weeks after assuming their roles in the executive board. Edeh praised the Tor Tiv for his outstanding contributions to sports, which have brought accolades to Benue State.
"This visit marks our first assignment following our inauguration, as we face substantial challenges in Zones A, B, and C of the state. To achieve remarkable progress, we seek the blessings of our esteemed father," said Edeh, reflecting on his extensive global travels and the impressive football development witnessed in Europe and other parts of the world. Edeh acknowledged the contrasting scenario in Nigeria, particularly in Benue, and expressed the desire to garner support from the community for football.
In response, the Tor Tiv recollected his active participation in various sports, including football, basketball, volleyball, and tennis during his time at Government Secondary School Gboko. He assured the FA of his willingness to collaborate in the advancement of football.
Regarding the appointment as BSFA Grand Patron, Tor Tiv unequivocally stated, "Considering the passion and dedication to football development displayed by the people at this level, I humbly accept. I will exert all my influence to promote and support the growth of football in the state. It is imperative that we reshape our mindset towards football development, stimulating the interests of our people. In the past, the private sector led the way, and we should not solely rely on the government."
The paramount ruler, who leads the traditional institution in Benue State, also committed to reviving the annual Tor Tiv Unity and Peace Cup with the guidance and assistance of the FA hierarchy.
Accompanying the BSFA board during their visit to the Tor Tiv palace were representatives from various council area football chairmen and other stakeholders.
The highlight of the occasion was the formal designation of Tor Tiv as the Grand Patron of the BSFA, marking a new chapter in the state's football landscape.