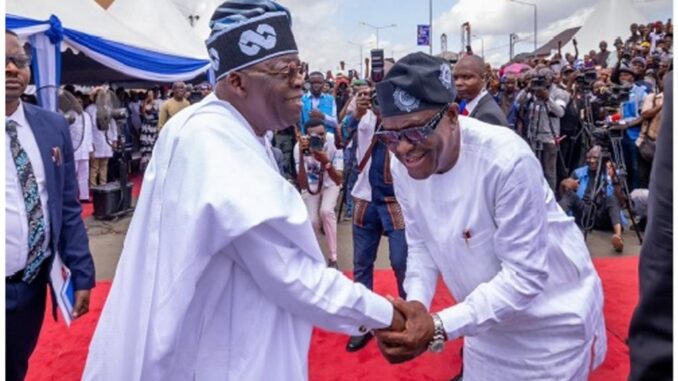 President Bola Tinubu has told Nyesom Wike, minister of the federal capital territory (FCT), not to give him free land should he ask for one.
Tinubu charged Wike to deliver the Abuja metroline for the good of the city instead.
The president spoke in Abuja on Sunday, while declaring open the annual conference of the Nigerian Bar Association (NBA).
He described Wike as the "landlord of Abuja".
"I want to ride on your metroline. If I ask for free land, do not give me," Tinubu said.
"But deliver the metroline for the good of the greatest number of Nigerians."
Wike, a member of the opposition Peoples Democratic Party (PDP), was one of 45 ministers appointed by Tinubu.
During an inspection tour on Wednesday, Wike said the Abuja rail mass transit (ARMT) should be completed in eight months.
The FCT minister took the train ride from the metro station, through the Idu station and then to the airport station.
The rail, which was developed in six phases, was funded with loans from the China EXIM Bank.
It was commissioned by former President Muhammadu Buhari on July 12, 2018, but the train service packed up shortly after, largely due to vandalism.
Wike frowned at the dysfunctional state of the rail system and said one of his priorities is to address challenges affecting public transportation in the FCT.
He added that if completed, the train system would significantly reduce traffic congestion in the city.