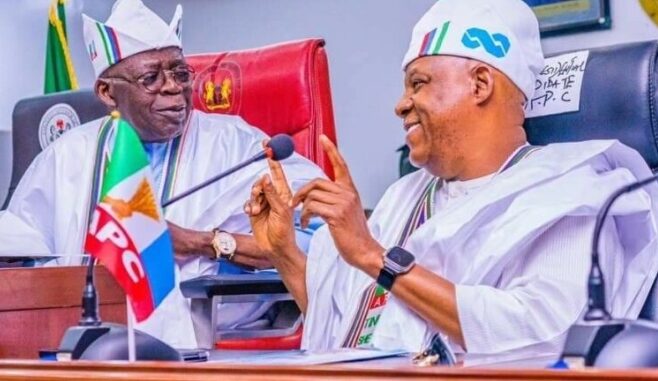 By Tambaya Julius
In a landmark decision, the Presidential Election Petition Court (PEPC) has delivered a resounding victory for President Bola Ahmed Tinubu and Vice-President Kashim Shettima.
This pivotal ruling revolves around the dismissal of the petition filed by the Allied Peoples Movement (APM).
The crux of the APM's argument was centered on Vice-President Shettima's eligibility to contest the presidential election held on February 25th.
They contended that Shettima's nomination as Mr. Tinubu's running mate contravened Section 35 of the Electoral Act 2022 and other constitutional provisions.
The APM sought to nullify the votes garnered by the APC in the election and declare the candidate with the second-highest score as the rightful winner.
Chairman of the five-man panel of justices, Justice Haruna Tsammani, delivered the judgment.
He firmly asserted that the issue of qualification or disqualification is a pre-election matter.
According to Justice Tsammani, the APM's contention should have been raised in the Federal High Court within 180 days from July 27, 2022, when Mr. Shettima assumed the role of the APC's vice-presidential candidate.
Significantly, this litigation window had closed in January 2023, aligning with the respondents' position.
Justice Tsammani emphasized that the qualification of a political candidate is not a matter open to everyone's interpretation.
The APM's petition, which hinged on Vice-President Shettima's non-qualification due to double nomination (as both the vice-presidential candidate and Borno Central senatorial candidate), was deemed incompetent and devoid of merit.
Justice Tsammani reiterated the constitutional prerequisites for presidential candidacy.
A candidate must be a Nigerian citizen by birth, aged over 40, a member of a political party, sponsored by said party, and possess an educational level equivalent to a school certificate.
These established criteria, as enshrined in the Nigerian constitution, remain steadfast, and no court possesses the authority to create additional qualifying or disqualifying factors.
The PEPC's ruling in favor of President Bola Ahmed Tinubu and Vice-President Kashim Shettima marks a significant milestone in the legal landscape of Nigerian politics.
This decision reaffirms the sanctity of constitutional requirements for presidential candidates and upholds the principles established by the Supreme Court in similar cases.
As this verdict reverberates across the political sphere, it underscores the paramount importance of adhering to constitutional provisions and due legal process in Nigeria's electoral system.