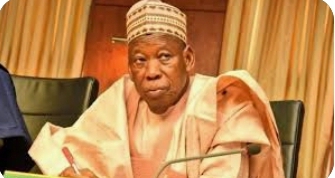 Dr. Abdullahi Ganduje, a prominent figure in Nigerian politics, currently holds the esteemed position of National Chairman within the All Progressives Congress (APC).
Ganduje's leadership has brought a renewed sense of inclusivity to the party, as evidenced by his recent statement regarding Senator Rabiu Kwankwaso.
During a media conference held within the elegant confines of his Abuja villa, Dr. Ganduje shared his candid thoughts on the potential addition of Senator Rabiu Kwankwaso to the APC ranks.
This discussion shed light on the party's perspective on expanding its membership base and the strategies in place to accommodate new members.
Senator Rabiu Kwankwaso's political journey has been a rollercoaster of roles and responsibilities.
A standout feature of his career was his tenure as the two-term Kano Governor, which showcased his ability to lead and govern a populous state.
Additionally, he took on the mantle of Minister of Defence, a role that came with its challenges and controversies.
Furthermore, Kwankwaso's presence in the Senate, although marked by his reserved demeanor, provided him with a platform to contribute to legislative discourse.
Despite his limited verbal engagement, his actions and voting record showcased his stance on critical issues.
Ganduje's statement reverberated with the party's open-door policy, welcoming individuals from diverse political backgrounds into the APC fold.
This welcoming stance was further underscored by the fact that a fellow member from Kwankwaso's home state holds a pivotal role within the party.
This alignment of interests offers Kwankwaso an advantageous opportunity to engage and collaborate within the APC framework.
Questions arose regarding the absence of Senator Kwankwaso's name from President Bola Tinubu's list of ministerial nominees.
In response, Ganduje provided clarity, asserting that no such commitment had been made to Kwankwaso.
The absence of a promise inherently negates the expectation of a nomination, making it a non-issue in the context of the current situation.
President Bola Tinubu's vision for a unity government, transcending political affiliations, was exemplified by the nomination of Nyesom Wike from the People's Democratic Party (PDP).
This progressive approach underlines the significance of collaboration and inclusivity in the realm of governance.