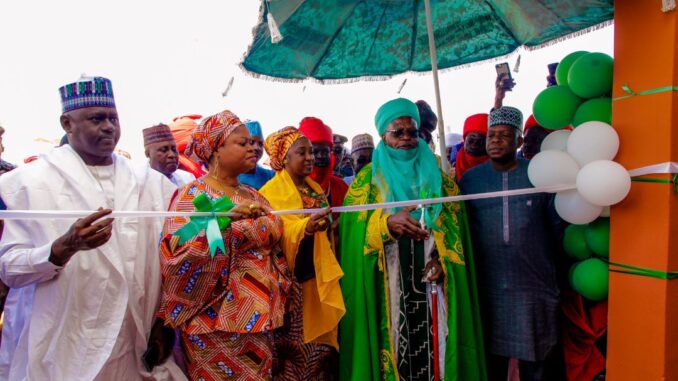 By Abubakar Yusuf
The Sustainable Development Goals (SDGs) have taken root in Nigeria, gaining significant momentum since their inception seven years ago.
Spearheading this journey with utmost dedication is Princess Adejoke Orelope Adefulire, whose leadership and vast experience in the Lagos state government have been crucial in driving this international program.
With a relentless pursuit of the UN's decade of action agenda (2020-2030), Princess Adejoke Orelope Adefulire's tenure has witnessed the implementation of various developmental programs.
These initiatives span across economic, social, environmental, and gender-related domains, aligning with the core 17 goals of sustainable development.
Under her watch, the SDGs have become an integral part of government activities, evident through the commissioning of hospitals, schools, and skill acquisition centers.
Her interventions extended to building structures for internally displaced persons (IDPs) in Nigeria's North Eastern states, coupled with empowerment and capacity-building initiatives.
Princess Adejoke Orelope Adefulire's efforts have garnered widespread recognition, both locally and internationally.
Notable events include the INFF launch during the 77th UNGA in the United States, and the realignment of the National Statistical System (NSS) in collaboration with NBS, making Nigeria the first in Africa.
Additionally, the launch of Goals 3 and 4, covering Health and Education, positioned Nigeria favorably for international assessment.
Her dedication towards post-COVID-19 recovery led to the establishment of specialized hospitals and health centers across Nigeria's six geopolitical zones.
These programs, in collaboration with state governments and development bodies, have been instrumental in enhancing social services and driving Nigeria's development in all aspects.
Princess Adejoke Orelope Adefulire's leadership consistently prepares Nigeria for the yearly UNGA, demonstrating the nation's commitment to global development.
Her exemplary service and domestication strategies earned her the esteemed title of SDGs Champion, bestowed by the UN Representative, Mathias Schamale.
Acknowledging her immense contributions, President Bola Ahmed Tinubu's administration lauded her courage during an award ceremony by the First Lady, Mrs. Oluremi Tinubu.
The call for continuity in her role is well-deserved, considering her remarkable performance and wealth of experience that positions Nigeria on the global stage.
With numerous national awards and international recognitions, including "OFR, NPOM, and SDGs Champion," Princess Adejoke Orelope Adefulire has demonstrated her reliability and competence both locally and internationally.
Her continuity will undoubtedly be advantageous, especially with the forthcoming 78th UNGA in September 2023.
As we look ahead to Nigeria's promising future, it is evident that Princess Adejoke Orelope Adefulire's passion and dedication to SDGs will continue to play a pivotal role in shaping the nation's sustainable development journey.
Yusuf Is A Public Affairs Analyst, Writing from Abuja, with email address yus.abubakar3@gmail.com.