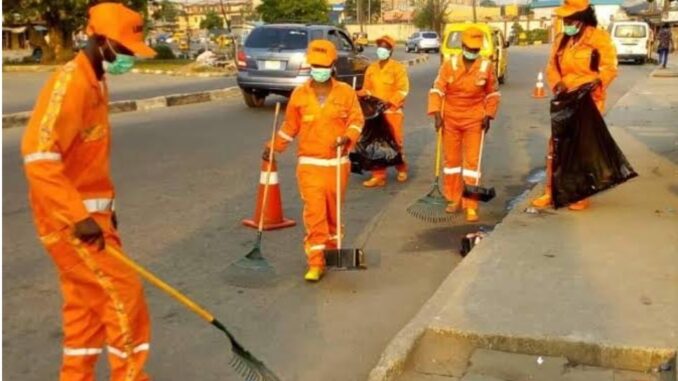 Street sweepers in Jalingo city, Taraba state capital have decried meagre salary and harassment by the coordinator of Taraba State sanitation agency.
The street sweepers told journalists that the governor Agbu Kefas has promised to pay them N20,000 negotiated as their monthly salaries instead they received only N13,000 as their first salary instead of 20,000.
Our Correspondent reports that, Mr. Illya Kefas, the coordinator, Taraba State Sanitation Agency had earlier told journalists that 600 youth and women, know as (Jalingo street sweepers), were engaged by the state governor under the supervision of the state sanitation agency to clean the Jalingo the state capital on a monthly allowance of N20,000.
"We were asked to go to the Taraba state sanitation agency's office last week concerning our first salaries. We were both happy but to our greatest surprised, we were paid N13,000 cash, as against the negotiated N20,000.
"We were told by the agency that our monthly allowances would be N20,000 each. Aside that, we were supposed to be paid in the first week of July but it was until the third week of July that quarter salary was given to us without any explanation about the situation.
"We were threatened to either quite the job if we are not satisfy with the N13,000. Some of us have already borrowed to meet our family needs considering the expectation that the agreed N20,000 was going to be intact" The sweepers decried
Meanwhile, Mr Iliya Kefas, the coordinator, Taraba State Sanitation Agency, denied that there was no standing agreement between government and the street sweepers concerning their monthly take-home.
"There was no agreement between government or the agency with the cleaners concerning their monthly take-home" He argued.
One of the streets sweepers who also narrated his ordeal, said the coordinator Iliya Kefas, is fun of abusing the streets sweepers and threatening to remove their names. " I went to collect my salary last week, after queuing for some minutes, I noticed that someone has signed on behalf of me and has collected the money. I told the coordinator, instead he suddenly gets furious and abuse me. He threatened me that he will remove my name if I ever bring such complain to him again" he said.
However, Chief GT Kataps, Taraba state Secretary to the government of the state (SGS), said the amount approved for the sweepers monthly allowance was N15,000 and not N20,000 as being speculated.