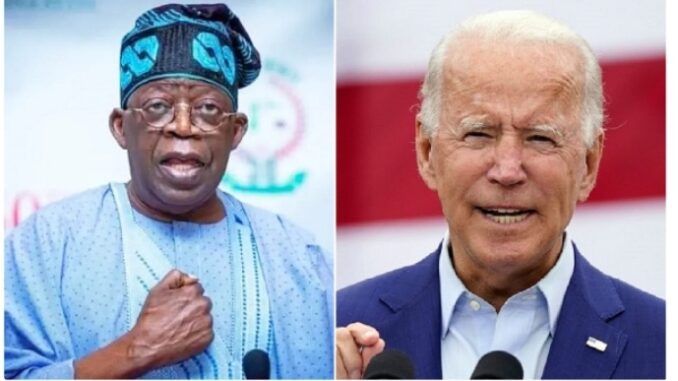 President Joe Biden has issued an urgent request to meet with President Bola Tinubu during the upcoming United Nations General Assembly (UNGA), marking a significant development in US-Nigeria relations.
The invitation, personally conveyed by US Presidential Envoy and Assistant Secretary of State for African Affairs, Ambassador Molly Phee, underscores the high regard the US Administration has for Tinubu and the region.
Ambassador Molly Phee, during her visit to Tinubu in Abuja, expressed the US's unwavering support for the Economic Community of West African States (ECOWAS).
She emphasized the importance of incentivizing large-scale American investment in Nigeria, aligning with efforts to strengthen the Nigerian economy and the wider regional economy.
Phee lauded Tinubu's commitment to creating an enabling environment for such investments.
President Joe Biden's exclusive invitation to meet with President Tinubu on the sidelines of the UNGA is a testament to the esteem in which Tinubu is held.
This meeting signifies Biden's high regard for Tinubu's leadership and his dedication to strengthening US-Nigeria ties.
It also highlights Nigeria's strategic importance in the eyes of the United States.
President Tinubu welcomed the invitation and emphasized the continuous effort required to perfect democracy, even in well-established democracies like the United States.
He urged Ambassador Phee to ensure that US policy actively collaborates with independent African democracies, especially in the face of challenges posed by anti-democratic forces.
Tinubu emphasized the need for swift and comprehensive reform of American-backed development finance and multilateral institutions.
These institutions, originally designed to support post-World War II Europe, must adapt to meet the developmental needs of emerging democracies in Africa.
This reform is crucial to ensure that African nations can pursue their legitimate aspirations without interference from self-serving demagogues.
President Tinubu reaffirmed his commitment to creating a conducive environment for private sector-led growth in Nigeria.
He pledged to address specific regulatory, tax, and environmental concerns to attract US industrial investment.
Tinubu's leadership aims to create prosperity for all Nigerian families, positioning Nigeria as an attractive destination for US businesses.
Tinubu discussed Nigeria's diplomatic efforts to resolve the crisis in Niger Republic peacefully.
He stressed his commitment to exhausting all diplomatic channels before considering alternative options.
Tinubu's stance aligns with ECOWAS consensus, which aims to defend democracy while preventing insincere attempts to buy time through unconstitutional means.
As both leaders prepare for this crucial meeting, the world watches with anticipation for the outcomes that will shape the future of this strategic partnership.