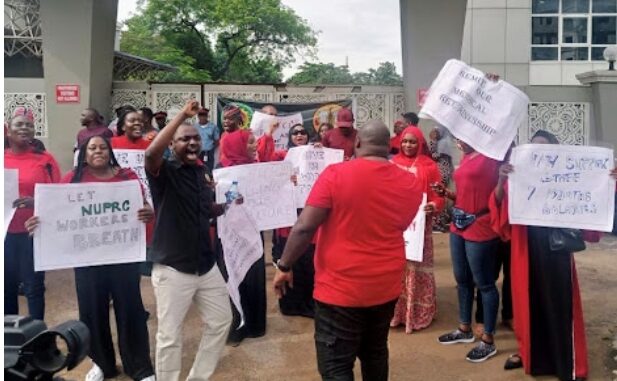 In a striking display of discontent, employees from the Nigerian Upstream Petroleum Regulatory Commission gathered at the commission's offices in Jabi and Utako, Abuja on Tuesday, to raise their voices against alleged poor welfare conditions.
Seeking immediate action, the protesting workers issued a 24-hour ultimatum to the management, urging them to address the grievances promptly to avert any potential industrial unrest.
Okechukwu Anya, the Chairman of the Abuja Branch union, spoke to journalists, emphasizing that the peaceful protest was initiated to bring the management's attention to resolve pressing issues concerning staff welfare.
Among the identified concerns were the non-remittance of pension deductions from staff salaries, an inadequately equipped working environment, insufficient tools for efficient work, pending staff claims, and on-call allowances yet to be compensated.
The list of issues didn't end there, as the workers also demanded an improvement in staff medical facilities, immediate payment of seven months of outstanding salaries, and fair treatment of outsourced personnel.
An exasperated Anya cited the union's numerous attempts to communicate with the management to resolve the problems, but their responses had been lackadaisical and inattentive.
Exercising their constitutional rights to express grievances and seek redress, the union asserted that it was imperative to address the concerns affecting their welfare, economic rights, and overall working conditions.
Anya reiterated that the executive members were committed to collaborating with the management to enhance staff welfare and foster the organization's growth.
Pleading with the commission to stand by their commitment to their workforce, he vowed that they would persistently voice their discontent until all issues were satisfactorily resolved.
The commission's security officers had taken stringent measures, locking the premises and denying the protesters access.
Despite the workers' strong stand, the management remained silent, refusing to respond to their demands.
When approached for comments, Adamu Garba, the Public Relations Officer of the commission, declined to provide any information, stating that he was on leave.
He directed all enquiries to his deputy, Carol Chika, who, unfortunately, did not answer her calls.