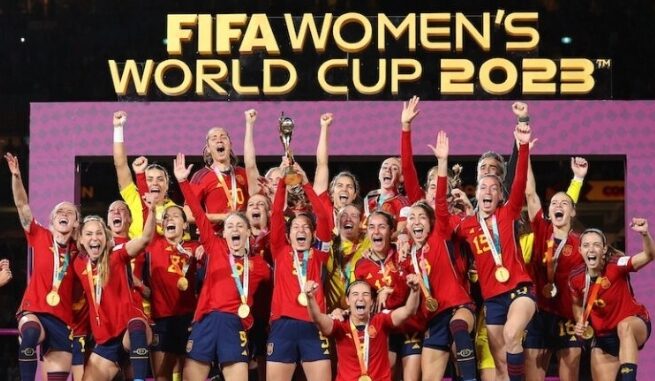 By Tambaya Julius
In a historic showdown at the FIFA Women's World Cup, Spain's La Roja emerged victorious against England's Lionesses, securing their maiden championship title in an exhilarating clash hosted by Australia and New Zealand.
The Lionesses initiated the match on a positive note, with Lauren Hemp showcasing her prowess with a nearly spectacular goal attempt, a curling effort from the edge of the area that left Catalina Coll grasping at thin air, only for the ball to rebound off the crossbar.
With 17 tournament goals prior to kick-off, Spain hinted at their offensive prowess as they initiated a relentless charge forward, with Alba Redondo testing the reflexes of England's goalkeeper, Mary Earps.
However, it was Olga Carmona Garcia who stole the spotlight, seizing an opportunity and displaying incredible precision as she netted the solitary goal of the match, capitalizing on Mariona Caldentey's expertly delivered through ball.
England found themselves lacking a response to Spain's growing dominance.
As the Lionesses pushed forward in search of an equalizer, they encountered a resolute Spanish defense that refused to yield.
Even in the dying moments of the first half, Spain's La Roja came close to doubling their lead, with Salma Paralluelo's shot inside the area rattling the post, keeping England's hopes alive.
The game was rife with drama, including Spain's missed penalty opportunity on the 70th minute, when Jenifer Hermoso's spot-kick was expertly denied by England's goalkeeper.
However, the Lionesses couldn't capitalize on this fortunate turn of events, failing to mount a comeback.
Instead, Spain maintained their dominance, with an offensive threat that kept England on their toes.
Spain's historic victory in the FIFA Women's World Cup against England will be remembered as a testament to their tenacity and skill on the field.
The clash showcased the essence of women's football at its finest, leaving fans and pundits alike in awe of the talent and determination displayed by both teams.