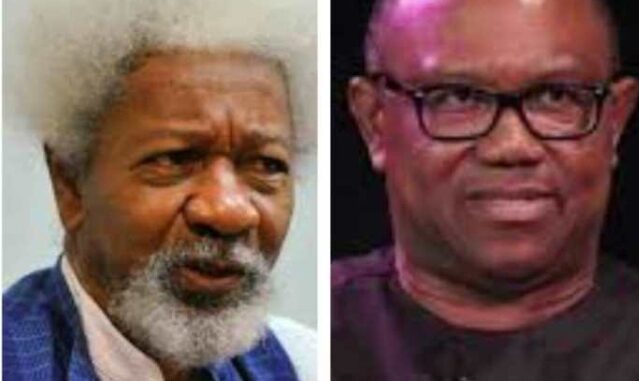 By Tambaya Julius
In a recent video statement, Nobel Laureate Prof. Wole Soyinka shared his perspective on the 2023 presidential election, shedding light on the Labour Party's involvement and disputing Peter Obi's claim of victory.
Prof. Soyinka noted that during this election, the Labour Party underwent significant transformations.
While he admitted that it wasn't his preferred political movement, he acknowledged its potential as a bridge between the two established political camps.
Contrary to Peter Obi's assertions of victory, Prof. Soyinka, who was actively monitoring the election, emphasized that the Labour Party did not secure a top position.
In his eyes, the party actually landed in third place, dispelling the illusion of a second-place finish.
Soyinka believed that the party's leadership was well aware of this fact but chose to perpetuate what he called 'gbajue,' a Yoruba term for the force of lies.
One notable aspect of the 2023 election was the Labour Party's ability to break away from the traditional mold.
It underwent significant changes that had the potential to reshape the political landscape.
This shift brought fresh perspectives and new dynamics to the electoral process.
However, the transformation also led to a regional focus within the Labour Party.
It evolved into a regional party more than ever before, narrowing its national appeal.
This regional emphasis became a defining characteristic of the party during this election.
As the Labour Party navigated its new identity and regional leanings, it began to challenge the dominance of the established political camps.
This change disrupted the traditional power structures and added complexity to the electoral landscape.
Prof. Soyinka, known for his commitment to transparency and integrity, took on the role of a monitoring unit during the election.
His involvement was driven by a desire to ensure fairness and honesty in the electoral process.
Peter Obi's claims of a second-place finish were met with skepticism by Soyinka.
Based on his observations and the data at hand, Soyinka firmly asserted that Peter Obi's party did not secure the second position in the election.
Soyinka's use of the Yoruba term 'gbajue' encapsulated his perception of the situation.
He believed that some political actors were resorting to deceitful tactics to manipulate public perception.