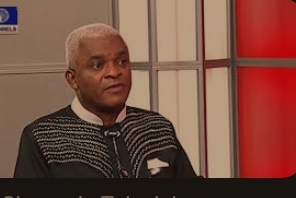 Senator Godswill Akpabio, the President of the Senate, has announced the appointment of Eseme Eyiboh, a former spokesperson of the House of Representatives, as his Special Adviser on Media and Public Affairs.
This move underscores Akpabio's commitment to effective communication and media management in his office.
Eseme Eyiboh, a two-time member of the House of Representatives, brings a wealth of experience to his new role.
He served in the Green Chamber from 2007 to 2011 and was reelected in 2011.
During his tenure, he held the pivotal position of spokesman and chairman of the House Committee on Media and Public Affairs under the speakership of Rt. Hon. Dimeji Bankole.
In 2011, Eyiboh's leadership skills earned him the appointment as Chairman of the House Committee on Civil Society Organisations and Donor Agencies by Speaker Aminu Waziri Tambuwal.
His dedication to public service and strong communication abilities have been evident throughout his career.
Eseme Eyiboh's accomplishments extend beyond the political arena.
He served as the Chairman of the Governing Board of the Cross River Basins Development Authority and held the position of Executive Chairman at the Akwa Ibom State Ethical and Attitudinal Reorientation Commission.
Eyiboh also contributed significantly as a former Director at Akwa Palm Industries Ltd.
His international engagement includes his role as a former Speaker at the WAIFEM forum for Regional Parliamentarians in Accra.
Additionally, he has experience as a Corporate Affairs Consultant at Socfinco Indufina of Brussels, highlighting his versatility and expertise.
Eseme Eyiboh's influence and contributions extend to the political landscape through his role as the Dean of the Faculty Board of the Initiatives, an agenda-setting caucus comprising former and current members of the National Assembly.
His appointment as Special Adviser on Media and Public Affairs has garnered nationwide acclaim, with analysts commending Senator Godswill Akpabio's discerning choice for this crucial position.