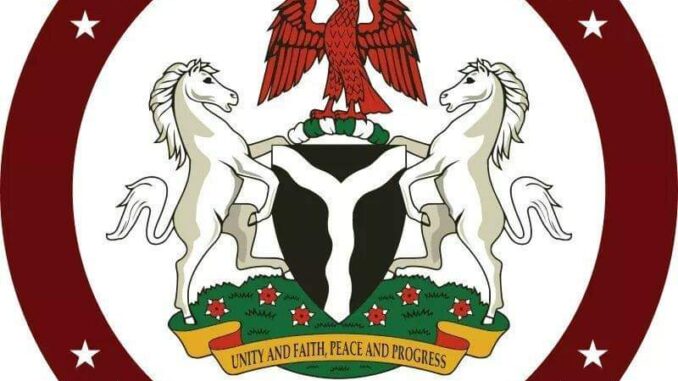 … Screens Wike, 13 others
…9 nominees take bow
The screening of President Bola Ahmed Tinubu's ministerial nominees started yesterday with the Senate resolving to contact the supreme court over a court judgement submitted to it by Sen Abubakar Sani Danladi, from Taraba.
Before his appearance on the floor of the Senate, reports say Danladi was barred by the court from holding public office for 10 years.
Ministerial List: Kailani Urges Tinubu to Consider APC Support Group Members
The former Deputy Governor and Acting Governor of Taraba State, after introducing himself, Senators from Taraba State gave him a clean bill.
The President of the Senate, Godswill Akpabio, however, sought for clarification from Danladi on the allegation that he was barred by the Supreme Court from holding public office.
The ministerial nominee Danladi attributed the report to the handiwork of his enemy, stating that there was no time the Supreme Court gave any judgement barring him for ten years.
Danladi, who presented the court Judgement to the Senate President, said because of his age and certificate, their was a judgement against him at the High court which he pursued to the supreme court and got a favourable judgement.
"When I was deputy Governor in 2007, there was a judgement against me. The Federal High court in Jalingo sat on that judgement and another federal high court set it aside," Danladi said, adding that he pursued the case to the supreme court and got victory..
But Akpabio said two federal high courts gave a conflicting judgement on his case, adding, "say what you need to say. We will study it, because it is a matter of interest," Akpabio said adding that they will contact the relevant authorities including the supreme court with the court judgement he submitted.
But Danladi, who said the supreme court was clear on his matter, insisted there is no judgement from the supreme court barring me.
"The supreme court is hearing me. The lawyers here are hearing me. I was not barred from contesting the election,' Danladi said.
The Senate had listed on its Order Paper for the day's legislative business names of sixteen nominees for screening.
However, Nkiruka Onyejeocha, from Abia State, whose name was not on the Order Paper later came and was screened.
At the end of the day, the Senate succeeded in screening 14 out of the 28 nominees.
Nine out of the 14 nominees that were screened, were asked to take a bow and go, without subjecting them to questions.
The sixteen nominees listed for screening in the order paper are: Sen.Abubakar Kyari – Borno State; Abubakar Eshiokpekha Momoh – Edo State, Nyesom Ezenwo Wike – Rivers State; Engr. Prof. Joseph Terlumun Utsev – Benue State, Sen. John Owan Enoh – Cross River State; Hon Bello Muhammad -Sokoto State, Mohammed Badaru Abubakar – Jigawa State; and Amb Yusuf Maitama Tuggar – Bauchi State.
Others are: Sen. Abubakar Sani Danladi – Taraba State; Barr. Uju-Ken Ohaneye – Anambra State, Hon Olubunmi Tunji-Ojo – Ondo State, Dr Betta C Edu – Cross River State; Imaan Sulaiman Ibrahim – Nasarawa State, Arch Ahmed Musa Dangiwa – Katsina State; Chief Uche Geoffrey Nnaji – Enugu State, and Stella Erhuvwuoghene Okotete – Delta State.
Abubakar Momoh from Edo State was the first nominee to be admitted into the chamber for screening.
The nominee, who was a two-time member of the Edo State House of Assembly and former member of the House of Representatives, answered questions from the Senators.
He promised to work in line with ideas and programmes of his party, the All Progressives Congress (APC).
A second nominee to be admitted for screening was the immediate past Governor of Rivers State, Nyesom Wike.
His nomination as minister had generated controversy, as he is still a member of the opposition Peoples Democratic Party (PDP).
Despite the controversy, Senators from Rivers State said that they were solidly behind him, and that they believed that he would perform as a minister, just as he performed in Rivers state.
Wike was subsequently asked to take a bow and go after introducing himself.
Professor Joseph Utsev from Benue State, was the third nominee to take the stage.
Utsev said the perennial menace of flooding in the country can be tackled mainly by dredging the rivers in the country such as River Benue which is heavily seated.
Utsev who is a Professor of Water Resources and Environmental Engineering said this while responding to questions by Senators when he appeared before the Senate for screening on Monday.
Flooding has become an annual disaster in the country as floods in various parts of the country led to an estimated economic loss of $9.12bn, approximately N4.2 trillion last year.
Speaking on the way out, the Benue nominee said: "We are talking about flooding, for example, River Benue is heavily seated and that is the only reason why we are having flooding in the country.
"If I am giving the Ministry (Water Resources), I will collaborate with the Ministries of Transportation, Agriculture and other Ministries to see how we can tackle the menace of flooding by trying to see how we can dredge the River.
"By dredging the River you would have to curb the menace of flooding and as well provide the water for irrigation so that will solve the problem."
The former Benue commissioner for Water Resources explained that irrigation farming was artificial supply of water to crops and there are certain areas where dams can not be constructed for the purpose but there is inland drilling for the purpose.
He said he has conducted several researches on water harvesting and uses, adding that: "We don't encourage wastage of water so what we now do is that the water that causes problems we put it into use."
Speaking of concern raised by a lawmaker regarding the long period between when he left secondary school and graduated with a degree despite his show of brilliance Utsev said it was due to the protracted Academic Staff Union of Universities (ASUU) strike.
"I went to Primary School in the year 1984, 1989 was when I got my First School Leaving Certificate. I started my secondary school in 1990 – 1995 that was when I got my SSCE.
"I graduated in 2004, I was actually supposed to pass out in 2003 but there was a prolonged strike by ASUU. I did a five year programme but with the strike, I spent six years on the programme that is why I graduated in 2004," he explained.
The next called up for screening was Senator Abubakar Kyari, who is currently the Acting National Chairman of the ruling APC, and hails from Borno State. He was a member of the 8th and 9th Senate.
He was introduced by the Deputy President of the Senate and subsequently asked to take a bow and leave in line with the tradition of the legislative Assembly, that its former members will always enjoy the privilege of taking a bow and go.
Another former Senator, John Enoh from Cross River State was also screened. Enoh, who was a Senator in the 8th Senate and a three-time member of the House of Representatives, said he chaired different committees including Finance and Appropriations. He was also asked to take a bow and go.
Bello Mohammad from Sokoto State was scrutinized by the Senators after questions were raised about his university admission on secondary school results that included no more than two credits.
In his response, Muhammad told the chamber that he had other secondary school results that he "all passed" which he admittedly did not attach to his CV "because we are talking of secondary school certificates."
Senator representing Sokoto South, Aminu Tambuwal, came to his defense by saying that he had worked closely with the nominee and appealed to his colleagues to screen him for confirmation.
The immediate past Governor of Jigawa State, Mohammed Abubakar Badaru, during his screening, narrated how he started as a trader and built his business into a multi-billion naira conglomerate. Without being asked questions, he was asked to take a bow and go..
Uju Kennedy Ohanenye from Anambra State was also screened. She spoke about her passion for helping the poor in society.
When Ohanenye finished speaking, the Senator representing Anambra Central, Victor Umeh, appealed to his colleagues to confirm the nominee based on her qualification.
Senator Ifeanyi Ubah also appealed to the Senate to confirm Ohanenye, claiming that she had been spending her money on charity in the last many years of her life. She was subsequently asked to take a bow and go.
Other nominees screened for confirmation before the Senate adjourned the session include: Hon. Olubunmi Tunji-Ojo, Dr. Betta Edu and Imaan Sulaiman Ibrahim.
The Senate will resume today, to continue with the screening exercise that will lead to their confirmation.