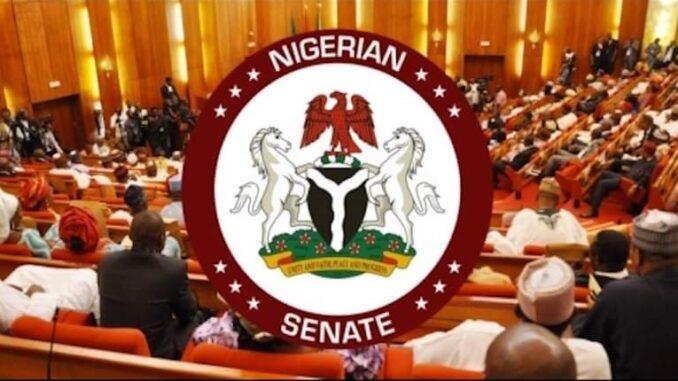 Senate has appealed to the Nigeria Labour Congress (NLC) to avert the intending strike on fuel subsidy removal and continue negotiation with the Federal Government.
Senate resolution followed the consideration and adoption of a motion at plenary on Monday.
The motion titled "Urgent Need to Avert the Intending Strike of the Nigeria Labour Congress was Sponsored by Sen. Kawu Suleiman (NNPP Kano) .
Suleiman in his lead debate said the NLC has given the Federal Government a seven-day ultimatum to reverse what the union termed as "anti-poor policies" or face an indefinite nationwide strike from August 2nd.
He said the NLC had directed all its affiliates and state councils to immediately begin mobilisation of workers and other Nigerians, including civil society allies, for a long-lasting strike and mass protests.
He said the labour movement had in a statement signed by its National President accused the Federal Government of failing to meet up with the demands it presented to it following removal of the subsidy on petrol, which caused an astronomical rise in pump price of the commodity.
He expressed worry that the strike would cripple the country as movement would be severely curtailed as commercial transport operators would withdraw their services, while markets, schools and healthcare facilities would be forced to shut down.
According to him, the action could heat up the polity when it occurred,saying that gains from the strike were far below the costs to either of the parties in conflict.
He said the strike threat by the NLC, if not averted, could plunge Nigeria into deeper economic woes, dislocate businesses, hunger, frustration.
He said more hardship would lead to unquantified financial losses and reduce Nigeria's Gross Domestic Product (GDP).
He said NLC proposed strike was a bad reputation for Nigerian economy and the educational system, saying that it portrayed the country in a bad light to the external world
According to him, it discourages foreigners from coming to do business or study in Nigeria.
He said that the society always bears the brunt of strikes, saying that an idle hand was the devil's
workshop.
He said there was tendency for an increase in crime rate, social vices like armed robbery, oil bunkering, prostitution, cyber scams,among others if the strike was allowed to hold.
Following support of senators on the motion,
Senate accordingly resolved to mandate its leadership to interface between the NLC and
the Federal Government to avert the intending strike of the NLC.