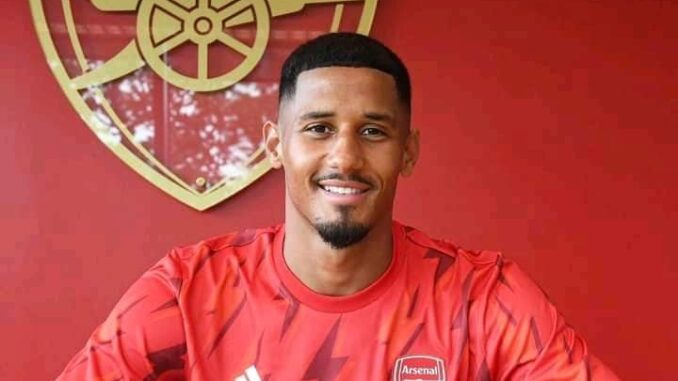 French defender William Saliba has inked a new four-year deal with Arsenal, solidifying his position as a key player under manager Mikel Arteta.
Arsenal's William Saliba has extended his stay at the club, signing a fresh four-year contract that secures his future until 2027.
The highly regarded French defender, acquired from Saint-Etienne in 2019, has emerged as a vital component of Mikel Arteta's Arsenal team.
This significant contract extension adds to the Gunners' recent accomplishments, as they've also secured new deals for Bukayo Saka, Gabriel Martinelli, and Aaron Ramsdale, showcasing their commitment to the project.
Furthermore, Arsenal's summer transfer activities have been notable, with high-profile arrivals such as Kai Havertz and potential signings like Declan Rice and Jurrien Timber.
In a heartfelt video message, Saliba expressed his gratitude to the supporters and highlighted the significance of his return to the club.
Investing In Future Success: Arsenal's Squad Revamp
With the intention of closing the gap and regaining their former glory, Arsenal has spared no expense in bolstering their squad this summer.
The acquisition of Kai Havertz from Chelsea for a staggering £65 million demonstrates their determination to secure top talent. However, the Gunners' ambitions don't end there, as they have their sights set on securing the services of Declan Rice and Jurrien Timber, with a combined investment of £143.5 million.
These substantial transfers reflect the club's commitment to assembling a formidable team capable of competing at the highest level.
Saliba's Contract Renewal: A Testament To His Potential
William Saliba's contract renewal with Arsenal serves as a testament to his exceptional abilities and immense potential at the tender age of 22.
The young Frenchman has already showcased his worth during the previous season, establishing himself as an indispensable member of the squad.
His technical skills, defensive prowess, and composure on the pitch have caught the eye of manager Mikel Arteta, who firmly believes in Saliba's ability to develop further and make a significant impact in the years to come.
The contract extension signifies the club's commitment to nurturing young talent and fostering their growth within the Arsenal framework.
Saliba's Emotional Connection: From North Paris To North London
In a touching video message posted on Arsenal's official Twitter account, William Saliba expressed his deep appreciation for the fans and shared his personal journey.
Born in north Paris, Saliba acknowledged the initial unfamiliarity supporters had towards him, as he embarked on loan spells at different clubs before making his presence felt in an Arsenal shirt. However, Saliba emphasized that this unconventional path was the best route for his development.
Returning to the club last summer marked a turning point in his career, as he quickly established himself as an integral part of the team.
Saliba conveyed his gratitude to the fans for their unwavering support, which has fueled his confidence and motivation to perform at his best.
The young defender concluded by affirming his commitment to the club and his desire to continue the journey together with the passionate Arsenal faithful.
Manager's Perspective: Arteta's Praise And Expectations
Mikel Arteta, Arsenal's astute manager, expressed his delight at securing William Saliba's long-term commitment.
Arteta emphasized the significance of the young defender's contributions to the squad in the previous season, highlighting his exceptional abilities despite his tender age. Recognizing Saliba's exciting potential, Arteta eagerly anticipates further development and growth in the coming years.
The manager's faith in Saliba's talent, combined with the unwavering support from the coaching staff, serves as a strong foundation for the Frenchman's continued progress as a vital asset to Arsenal.
Edu's Vision: Building A Bright Future
Edu, Arsenal's sporting director, conveyed his immense satisfaction with William Saliba's contract renewal, underlining the club's commitment to nurturing young talents and fostering long-term success.
The renewal solidifies Saliba's place in Arsenal's vision for the future, ensuring his continued presence in the squad for many years to come.
Edu expressed confidence in Saliba's potential to achieve greatness alongside the Gunners and emphasized the fans' shared enthusiasm for the defender's continued journey with the club.
This long-term commitment to talented individuals forms an integral part of Arsenal's strategy to evolve, progress, and ultimately secure success on both domestic and international stages.
In conclusion, William Saliba's new four-year contract with Arsenal marks a significant milestone in the young defender's career.
The club's commitment to securing his services reflects their belief in his immense potential and the pivotal role he plays in their future plans.
With Saliba's unwavering dedication and the continued support of the fans, Arsenal looks set to make strides towards reclaiming their status as a dominant force in football.