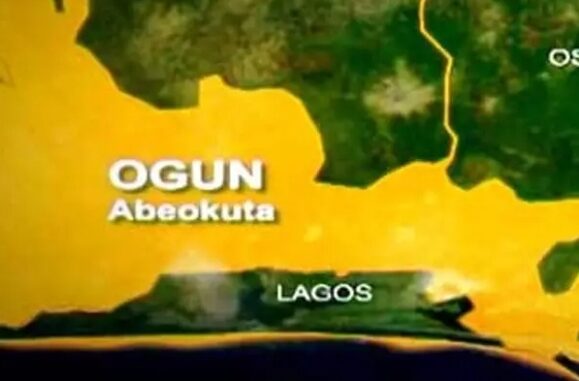 By Tambaya Julius
The once peaceful town of Sagamu, nestled in Ogun State, now trembles with fear as a brutal confrontation between the Eiye and Aiye confraternities unfolds.
The sinister rivalry, reignited last Friday, has cast a dark shadow over the community, claiming the lives of approximately 20 young men, among them innocent secondary school pupils.
An anonymous resident of Sagamu expressed deep concern over the tense atmosphere that has gripped the town since the resurgence of violence.
People live in constant dread, fearing stray bullets from the warring cultists.
The epicenters of these mindless killings include Agbowa behind Ewusi Palace, Makun, Ijagba, Ajaka, Isale Oko, and Sabo.
Tragically, the casualties are not limited to those directly involved in the feud. In a heart-wrenching incident, three secondary school students who had gone to a local barbershop in preparation for the school reopening were mercilessly gunned down around Sabo.
The intended target was the owner of the salon, but in his absence, the cultists ruthlessly executed those present.
Another gruesome incident unfolded on Ode Lemo road, where four individuals met a similarly tragic fate.
The cultists, driven by an unclear motive, took the lives of these innocent victims.
The community now stands united against this senseless bloodshed, calling for stringent measures against the perpetrators.
Another alarming aspect of this crisis is the proliferation of drugs within the town.
These cultists are often spotted in various corners, indulging in substance abuse.
It is imperative for the government to address this issue, recognizing the link between drug use and violent behavior.
The Nigeria Police Force Public Relations Officer, Muyiwa Adejobi, emphasized that addressing the Sagamu crisis requires a multifaceted approach. It extends beyond deploying an anti-cultism squad.
Adejobi urged community leaders and politicians to play an active role in resolving the conflict.
Adejobi also pointed out that many of the troublemakers in Sagamu are not indigenous to the town. Some come from neighboring areas, making it a complex problem that demands the involvement of various stakeholders.
He stressed the need for unwavering commitment in dealing with these criminals.
The Ogun State Commissioner of Police, Mr. Abiodun Alamutu, received calls to take action based on reports that the cultists have connections within the security apparatus.
Adejobi pledged to engage with the Commissioner on this matter, advocating for a firm stance against those involved in cult activities.
Adejobi's call for community involvement resonates strongly. Cultism has penetrated various sectors of society in Sagamu, including Okada riders and artisans.
The entire town, along with Remoland, must unite to combat this menace. Urgent meetings between community leaders, law enforcement, and vigilante groups are essential to finding a lasting solution to the crisis.
The community stands at a crossroads, where swift and comprehensive action is the only path to restoring peace and safety.