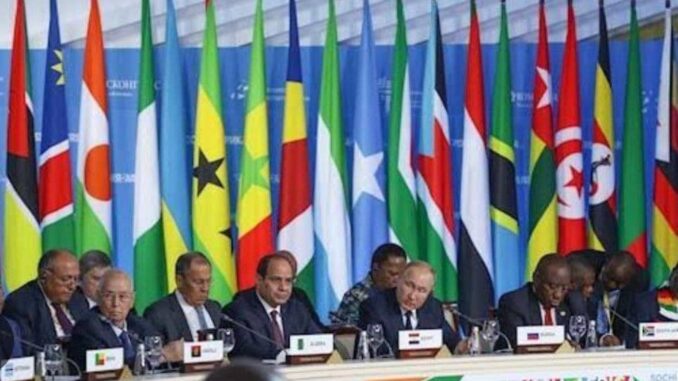 By Lawal Sale
The second Russia-Africa Summit is set to take place in St. Petersburg, Russia's vibrant second-largest city, on July 27-28, 2023. This highly anticipated event aims to further strengthen the bonds between Russia and African nations across various crucial sectors, including politics, economics, science and technology, security, infrastructure, education, and culture.
Six African Nations To Send Peace Mission To Russia, Ukraine
With the majority of the 54 African leaders expressing their keen interest in attending this landmark summit, it is expected to be a pivotal gathering for fostering cooperation and mutual understanding. The Summit, themed "Russia-Africa Economic and Humanitarian Summit," also seeks to establish a foundation for the creation of prosperous, secure, and harmonious regions in the face of evolving global realities.
The programme schedule, as shared by Anton Kobyakov, an advisor to Russian President Vladimir Putin, highlights the inclusion of over 30 panel sessions and thematic events addressing key cooperation issues between Russia and African countries. Furthermore, Kobyakov emphasized the growing significance of Africa in the emerging multipolar world order, stating that "Africa will obviously play an increasingly important role in the emerging architecture of the multipolar world."
This significant summit follows the success of the inaugural Russia-Africa Summit held in Sochi in October 2019, under the theme of "peace, security, and development." Co-chaired by President Putin and then-chairperson of the African Union (AU), Egyptian President Abdel Fattah al-Sisi, the event marked a historic moment as it constituted the first major gathering of African and Russian leaders since the dissolution of the Soviet Union in 1991.
These summits serve as integral components of Russia's foreign policy objectives, providing an invaluable platform for face-to-face discussions and interactions between political leaders, business executives, experts, and the media. By fostering such engagements, the summits actively contribute to the development of joint ventures and collaborations between Russia and Africa.
Building upon the success of the 2019 Summit, which resulted in the signing of trade deals worth a staggering $12 billion and more than 50 contracts between the two sides, the main objective of the upcoming summit is to further elevate the mutually beneficial partnerships to new heights.
The historical ties between Russia and African countries trace back to the 1940s and 1950s when concerted efforts were made to decolonize African nations. The strong bond of friendship established during that era continues to endure, with the Soviet Union providing unwavering support to African nations in their struggle against colonialism, apartheid, racism, and their fight for national independence.
As delegates from Russia and Africa convene in St. Petersburg to deliberate on critical economic and humanitarian issues, it is vital to recognize the shift from unilateralism to multilateralism and the growing inclination of African nations towards aligning their policy orientation with Russia and China.
This summit presents a golden opportunity for Africa to devise a pragmatic and well-structured strategy that capitalizes on the expanding market potential and enhances trade relations with Russia. By addressing the longstanding trade imbalance that has persisted between the two regions, Africa can actively foster worthwhile business relationships and partnerships.
To achieve this, it is crucial for Africa to organize purposeful trade platforms and business missions that effectively showcase its economic potential to the Russian Federation. In essence, concerted efforts must be made to enhance Africa's exports to Russia.
Simultaneously, Russia possesses vast technological expertise in areas such as nuclear energy, oil and gas, transport technology, machine building, and construction, which can significantly benefit Africa. Meanwhile, Africa, with its abundant natural and human resources, as well as its diverse agricultural products such as coffee, tea, fruits, flowers, cocoa, cashew nuts, and peanuts, holds a strategic position to boost trade with the Russian Federation and foster a more balanced trade relationship.
By capitalizing on these opportunities and fostering a spirit of collaboration, the Russia-Africa Summit aims to unlock immense potential for economic growth and development, benefiting both regions and fostering a more prosperous and interconnected world.
Sale is an Abuja-based Global Affairs Analyst. (lawalmaida1@yahoo.com)