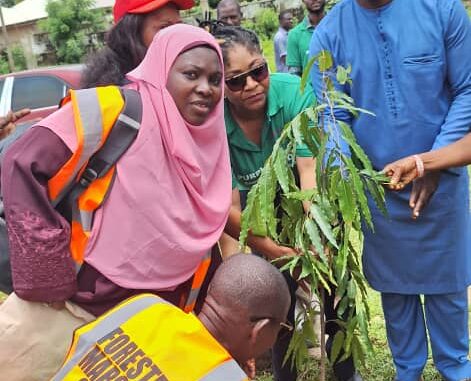 By Tambaya Julius
In a collective display of strong determination and a shared commitment to combat the challenging heat waves in Gwagwalada Area Council, 25 Rotary Clubs both within and beyond Abuja converged yesterday.
The concerted effort aimed to encourage the habit of tree planting, aligning with the visionary proposal put forth by the esteemed Hope President of Rotary International of Gwagwalada Rotary Club.
The visionary Rotarian Ayodele Steven PHF saw his proposed project spring to life, making a significant impact.
Gwagwalada Rotary Club, under the leadership of Rotarian Ayodele Steven PHF, opened its doors to Rotary Clubs and numerous partners, uniting in a gesture of communal love.
The focal point of this gathering was the planting of an impressive 1000 trees during a single flag-off ceremony.
This transformative event took place along Nigeria Customs College Road, Gwagwalada, marking a powerful step towards environmental preservation.
This impactful partnership was orchestrated by the adept Office of the Zone 2 District 9125 Chair of Supporting the Environment.
Collaborating seamlessly with PurpleHands Empowerment Initiative, FCTA Department of Parks and Garden, Forestry Department of the Federal Ministry of Environment, and P.I.B. Global Services, the event gained significant momentum.
Notably, P.I.B. Global Services stands as the distinguished producer of Biochar Tree organic fertilizers, contributing to the event's sustainability.
The event garnered the esteemed presence of significant figures, including His Royal Highness, the Aguma of Gwagwalada, who holds the esteemed position of the number 1 traditional Ruler of Gwagwalada.
The event also saw the participation of key authorities such as the FCT Comptrollers of Nigeria Immigration and Correctional Services, Area Commander of NDLEA, Centre Director of the National Open University of Nigeria's Faculty of Agriculture, Uniabuja, and the Department of Forestry from Gwagwalada Area Council.
The event was graced by numerous guests representing diverse walks of life.
During this momentous occasion, representatives from Rotary International District 9125 in Nigeria delivered insightful speeches.
The District Governor Nominee eloquently described tree planting as a spiritual act with profound medicinal benefits.
Meanwhile, Rotarian Agwu IJEOMA Joyce, President of all Club Presidents in Abuja, emphasized that tree planting is a lifestyle choice, echoing the sentiment of giving back and nurturing the environment for a better existence.
Rotarian Ayodele Steven, the President of Rotary Club of Gwagwalada FCT, addressed the press, expressing immense personal satisfaction over the resounding success of the project.
With unwavering commitment, he assured sustained efforts and the continuation of the project, promising enduring benefits for the local populace.