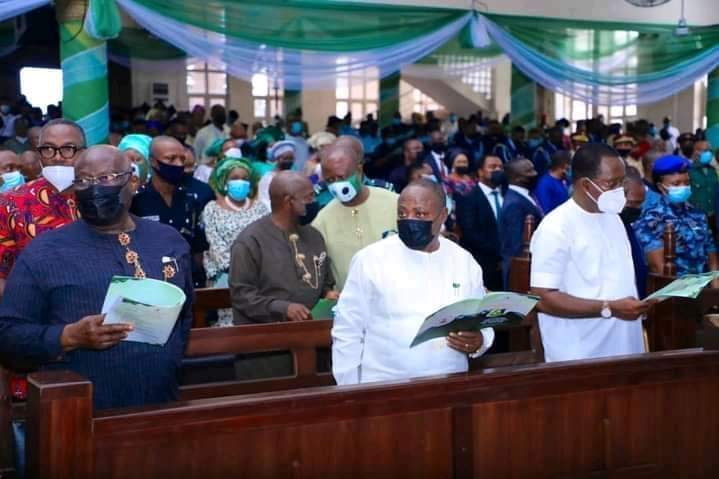 The Anglican Diocese of Okrika in Rivers State, has said it will in this year celebrate the 146th anniversary of the existence of the Church in Okrika nation.
Okrika nation is made up of Okrika and Ogu/Bolo local government areas as well as part of Port Harcourt City local government area of the state.
Addressing journalists in Port Harcourt, Bishop of the Anglican Diocese of Okrika, Rt. Reverend Enoch Atuboyedia, said the Church came into Okrika nation in 1878, it was however given a name in 1881 by late Bishop Samuel Ajayi Crowther.
Atuboyedia stated that although the Anglican Diocese of Okrika was created about 20 years ago, Saint Peter's Cathedral, Okrika, which is the Diocesan headquarters was completed in 1924.
He said: "As a diocese called the Diocese of Okrika, although our existence have been very very short; 20 years now, but I believe we have a very long history.
"We have a very long history because Christianity came into Okrika nation in the year 1878. Precisely in 1881, the Church was formally called a name in the month of May by Bishop Samuel Ajayi Crowther in 1881, May 23rd precisely.
"Ever since then, the Church has been in existence. By the special grace of God, this year the Church in Okrika will be marking her 146 years of existence. You can actually see that we have a very long history.
"Again, this year also marks the centenary celebration of Saint Peter's Cathedral Church, Okrika. Our forefathers indeed led the foundation of Saint Peter's Church in the month of September 1923. By 1924, they had finished building.
"So, that great edifice you see there was built actually within a year. But, due to so many activities this year, we have decided that next year, we will be celebrating the centenary of the building, not centenary of the Church because the Church will be 146 years this year, but that edifice is 100 years old.
"Looking at that edifice, you will agree with me that, from the beginning, it was built to serve as headquarters Church. Once in the history of Rivers State and history of the Church, the Church in the entire Ikwerreland, the Church in Etche, all of them were once under Okrika district.
"The Church in Okrika became an Arch-deaconry in February in February 1983. The entire Okrika nation serve as one Arch-deaconry. What was Okrika Arch-deaconry in 1983 became Diocese of Okrika in 2003; precisely on September 17, 2003.
"Our premier Bishop, Rt. Rev. Tubokosomie Robinson Abere was consecrated as the first Bishop of the Diocese of Okrika at Saint Cyprain's Church, Hospital Road, Port Harcourt, on Sunday, November 16, 2003.
"Thereafter, on Monday, he was enthroned as the pioneer Bishop, Diocese of Okrika formally. The diocese was created on March 11, 2003 at Asaba, during the standing committee meeting of the Church."