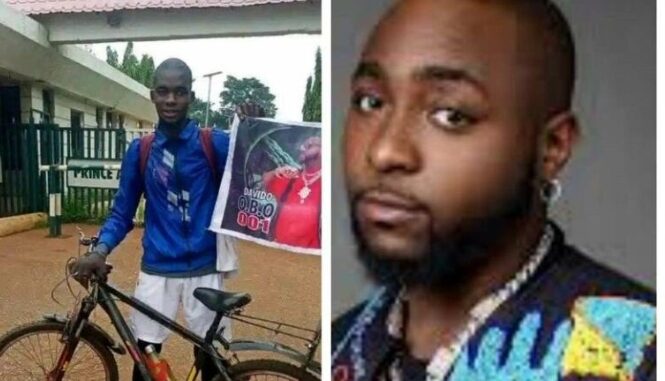 In a surprising turn of events, popular musician Davido has extended a unique request to a devoted fan.
The fan, who goes by the Twitter handle @emmiwuks, has embarked on a captivating journey, cycling all the way from Benue to Lagos with a heartfelt mission to personally congratulate Davido and present a special gift.
Davido had initially urged the enthusiastic fan to put his ambitious plan on hold due to his absence from the country, but this plea seemed to fall on deaf ears.
In a tweet on Friday, 11 August 2023, Davido expressed, "U no wan hear …. Oya send account … then u can do ur great journey when I'm back ❤️."
The young and passionate @emmiwuks, an ardent follower of Davido, embarked on his cycling expedition from Benue State to Lagos on 3 August.
His motivation was driven by an unwavering admiration for Davido, whom he considers a legend, and the desire to present a personally crafted gift as a token of appreciation for the artist's latest creation, 'Timeless.'
In his own words, emmiwuks tweeted, "Am just that small BENUEBOY trying to let the world know of what I can do perfectly….. Doing unbelievable things in a positive way with my bicycle Is all I want to start doing Benue to Lagos on bicycle for @davido 03-08-2023 Is the starting date."
Throughout his journey, emmiwuks has been providing regular updates to his supporters, sharing his experiences in various cities he encounters along the way.
Despite facing discouragement from some quarters, his determination remains steadfast as he pushes forward towards his goal of reaching Lagos.
Meanwhile, Davido, who is currently out of the country, has made attempts to intervene, advising emmiwuks to turn around since he won't be available to meet.
However, the devoted fan's resolve seems unbreakable, and he persists in his journey.
As of his latest tweet, emmiwuks, still embracing his bicycle odyssey, has reached Benin and is en route to Ogun State.
He declared, "Am not going back Boss, I must present my gift to you @davido.
Benin state heading to Ogun any moment from now."