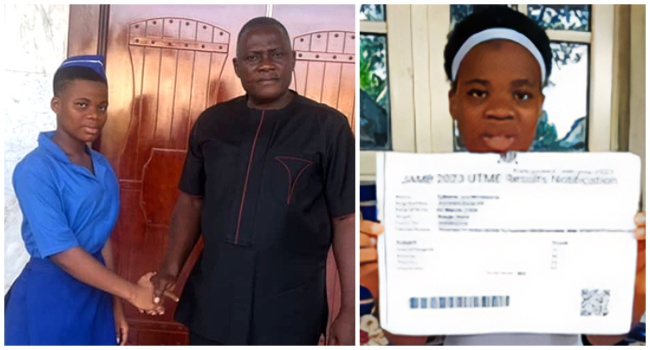 In a shocking turn of events, Innoson Vehicles has decided to revoke the N3m scholarship awarded to Mmesoma Ejikeme after discovering that she manipulated her Unified Tertiary Matriculation Examination (UTME) results.
Mmesoma had initially claimed to have achieved an outstanding score of 362, making her one of the top-performing candidates of the year. This prompted Innoson Vehicles' founder, Mr Innocent Chukwuma, to announce the scholarship on May 8, celebrating her supposed achievement.
JAMB Goes After Deceptive High Scorers
However, the Joint Admissions and Matriculation Board (JAMB) refuted Mmesoma's claims, stating that her results were manipulated. This led the Anambra State Government to establish an inquiry committee to investigate the matter.
The committee recently released its eight-page report, confirming that Mmesoma had indeed manipulated her results. She had falsely increased her score to 362, whereas her actual score was 249. As a result, Innoson Group, through its Head of Corporate Communications and Affairs, Cornel Osigwe, took to Twitter to announce the withdrawal of the scholarship.
In a series of tweets, Innoson expressed deep disappointment in the findings and emphasized that Mmesoma's actions contradicted the company's core values. The firm stated, "In line with these principles and response to the confirmed findings, we have made the difficult decision to withdraw the scholarship awarded to Miss Joy Mmesoma Ejikeme." This decision reflects their unwavering commitment to honesty, integrity, and merit-based recognition.
The retraction of the scholarship has been described by Innoson as regrettable, acknowledging the disappointment it caused to those who supported Mmesoma, including her school principal and other well-meaning individuals. Nevertheless, Innoson emphasized the importance of maintaining the integrity of their scholarship program and the values it upholds.
The company affirmed its dedication to supporting deserving students, investing in the future of the education sector, and adhering to the highest ethical standards. Innoson extended its gratitude to the public, JAMB, the Anambra State Governor's committee, and all those who demonstrated understanding and support throughout this challenging situation.