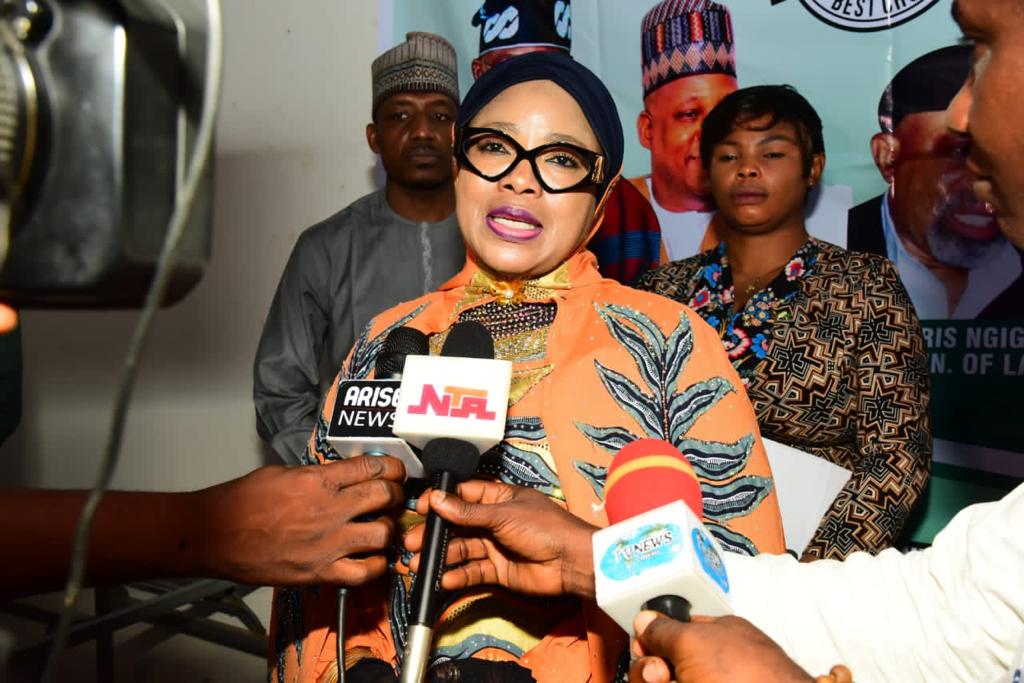 The Former Minister of State for the Federal Capital Territory, FCT, Dr Ramatu Tijjani Aliyu has commended Nigerian Unite For Tinubu/Shettima Mandate (NUFT), leadership and its members for their unwavering commitment and dedication to a better Nigeria.
Speaking at the launching of the Nigerians Unite for Tinubu/Shettima mandate (NUFTS) compendium, in Abuja yesterday, Aliyu said, the tireless efforts of the organisation have made a lasting impact on countless lives, inspiring hope, and igniting the flame of progress.
The ex Minister who is also the grand matron and convener of the organisation stated this while delivering a keynote address, at the launch of NUFTS Compendium in Abuja on Friday evening.
She recalled several other humanitarian projects carried out by the organization in the area of education, health and others, aimed at providing humanitarian aid to the needy.
She commended the organization for their tireless efforts in not just supporting the campaign of President Bola Tinubu, but in touching the lives of people in the FCT, Kogi and other north central states through humanitarian deeds.
"This beautiful Compendium encapsulates the extraordinary journey of NUFTS and the remarkable impact on the lives of people in the Federal Capital Territory (FCT), Kogi State, and the wider North Central region of Nigeria. It is with immense pride and honor that I stand before you as we pay tribute to the collective efforts and unwavering dedication of this community-based organization.
"NUFTS, a name that resonates with hope and unity, has emerged as a beacon of the RENEWED HOPE spirit, founded to support the Presidential aspirations of Sen. Asiwaju Bola Ahmed Tinubu and his running mate Sen. Kashim Shettima, NUFTS which has transcended the boundaries of mere political support and has embraced the essence of service, progress, and development.
"Today, we bear witness to the remarkable impact NUFTS has had on our communities and the lives of countless individuals," she said
Aliy extended gratitude to the leadership and members of NUFTS for their unwavering commitment and dedication to a better Nigeria.
She therefore called on them not to rest on their oars in the post-election season, but continue in the spirit of service to humanity.
She said: "I call upon you not to drop the ball now that elections have been won, but instead to redouble your efforts in service to humanity.
"As we launch this compendium, let it serve as a clarion call—a call to action for all of us to rise above our differences, embrace compassion, and work together for the betterment of our nation. "