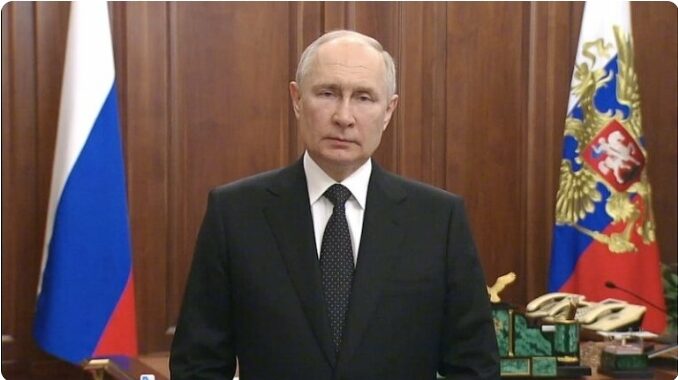 In a recent forum held in Vladivostok, Russian President Vladimir Putin weighed in on the ongoing legal battles of former US President Donald Trump.
Putin's comments provided a unique perspective on the situation, revealing his views on the US political system and its implications for international relations.
The Allegations Against Trump:
Donald Trump, a prominent figure in US politics, is currently facing a series of criminal cases.
These cases revolve around allegations of attempting to overturn the results of the 2020 presidential election, in which he was defeated by Joe Biden.
Despite the charges, Trump maintains his innocence, while President Biden, who is seeking re-election, has refrained from commenting on the legal proceedings against his opponent.
During his address, Vladimir Putin expressed his belief that Trump's prosecution is politically motivated.
He pointed to this as an example of what he considers the "rottenness" within the American political system.
Putin's assertion is that the case against Trump highlights internal flaws within the US democracy.
From Russia's standpoint, Putin suggested that the developments surrounding Trump's legal battles are favorable.
He views it as a revelation of the shortcomings of the American political system, which, in his opinion, disqualifies the US from lecturing others about democracy.
Putin remarked, "Everything that's happening with Trump is politically motivated persecution of one's political rival, that's what it is.
And it's being done before the eyes of the U.S. public and the whole world. They've simply exposed their internal problems."
It's important to note that during his presidency, Trump faced an investigation regarding possible collusion with Russia.
However, the special counsel Robert Mueller's investigation did not find sufficient evidence to conclude that Trump's campaign had coordinated with Moscow to influence the 2016 election, in which he defeated Hillary Clinton.
Putin dismissed claims of Trump having special ties with Russia as "complete nonsense."
Vladimir Putin also commented on the prospects for US-Russia relations beyond the 2024 US election.
He expressed doubt that significant changes would occur, regardless of the election outcome.
According to Putin, the US administration continues to portray Russia as an existential adversary, shaping a persistent anti-Russian policy.
This stance, he believes, will remain consistent regardless of who occupies the White House.