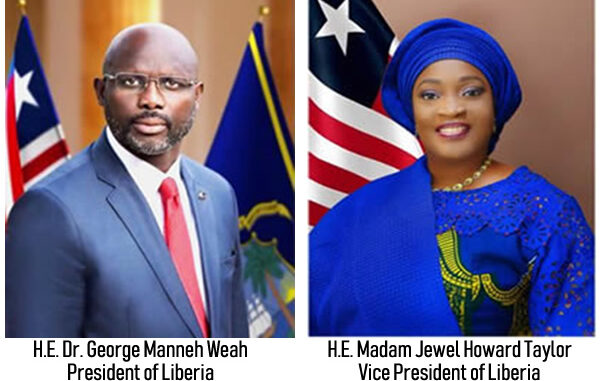 With the Liberian presidential election fast approaching on October 10, President George Manneh Weah has officially launched his reelection campaign, drawing massive crowds of enthusiastic supporters. On September 7, the campaign kickoff took place in Monrovia, where thousands gathered to witness the event.
Simultaneously, campaign rallies were held in all 15 subdivisions of Liberia, as well as in the United States. President Weah, representing the Coalition for Democratic Change (CDC), demonstrated his strong political presence as he rallied thousands of party loyalists in Monrovia, sending a clear message to opposition parties that he aims to secure victory in the first round of voting.
Draped in a blue boubou and cap, the 56-year-old President Weah received cheers from his supporters, who donned T-shirts bearing his and his running mate Jewel Howard-Taylor's images. In his address, he expressed gratitude for the trust placed in him during his six years in office and highlighted the progress made during his first term.
"During our first term, we laid the foundations for peace, freedom of expression, macro-economic stability, and the restoration of confidence in the national education system. I can guarantee that the years 2024 and beyond will be better for all Liberians," President Weah declared.
His supporters, sporting red caps symbolizing the CDC, praised his commitment to fulfilling campaign promises made when he transitioned from international football stardom to politics, ultimately winning the presidency in 2017 and taking office in 2018 for a six-year term.
Since his inauguration in 2018, President George Manneh Weah has made significant strides across various sectors in Liberia, including healthcare, education, youth development, gender equality, economic stability, food and fuel price control, energy, infrastructure, agriculture, poverty reduction, human rights, national security, social inclusion, and traditional governance, among others.
Facing a field of 19 rivals, including former Vice President Joseph Boakai, businessman and party leader Alexander Cummings, and human rights lawyer Taiwan Gongloe, President Weah seeks to secure another term. The National Elections Commission has accredited 46 political parties for the upcoming election, with over 2.4 million registered voters participating in the selection of 73 members of parliament and 15 senators out of the country's 30 senators.