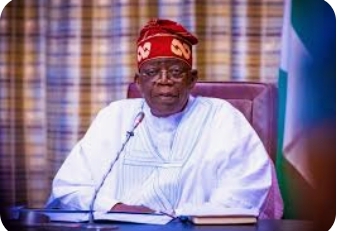 By Tambaya Julius
In his unwavering determination to rebuild Nigeria's economy and usher in a new era of prosperity, President Bola Tinubu has entrusted his recently inaugurated cabinet with a critical mission.
He has made it abundantly clear that results are non-negotiable, and he is ready to take decisive action if anyone falls short of this goal.
This resolute stance was articulated during a momentous gathering at the Presidential Villa, Abuja, where President Tinubu hosted members of the Tinubu Support Organisation (TSO).
Their solidarity visit reaffirmed their commitment to the President's vision of transformation.
According to Chief Frank Ebere-Njoku, the National Spokesperson for the Tinubu Support Organisation, President Tinubu expressed profound gratitude to the organization for standing firmly behind his mandate.
He underlined that Nigeria is on the path to recovery, guided by a collective resolve to overcome present challenges.
President Tinubu's unwavering confidence in his cabinet members shines brightly.
He sees them as the torchbearers who will navigate Nigeria out of its current economic quagmire.
With resolve, he declared, "I have assembled ministers who are poised to work relentlessly towards my vision of a progressive Nigeria."
Furthermore, he emphasized his unyielding commitment to results, stating, "I am confident in their ability to fulfil their primary task of rebuilding the Nigerian economy.
Failure is not an option, and I will not hesitate to make necessary changes if required."
President Tinubu also pledged to lead an all-inclusive government, ensuring that every individual, particularly those who stood by him, has an opportunity to contribute to the nation's progress.
His words echo a commitment to rewarding loyalty, excellence, and hard work, fostering an environment where dedication is recognised and valued.
Earlier in the meeting, Alhaji Aminu Suleiman, the Founder of Tinubu Support Organisation (TSO), reaffirmed the unwavering loyalty and support of the organization towards President Tinubu.
He expressed their deep dedication to making the government a resounding success, underscoring the pivotal role played by TSO in rallying support for President Tinubu's presidency.
As of May 29, 2023, President Tinubu assumed office, welcoming 45 ministers into his cabinet, each carrying the weighty responsibility of driving Nigeria towards economic resurgence and enduring prosperity.