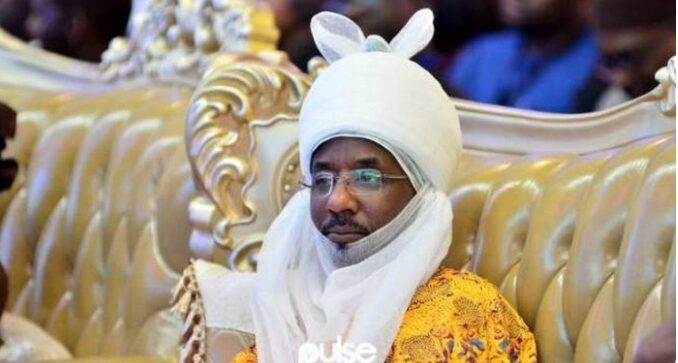 In the historic city of Kano, a portrait of the dethroned 14th Emir, Muhammadu Sanusi II, has been making waves on social media.
The portrait, hanging prominently on the coronation hall wall of Kano State's Government House, has reignited tensions in the region.
Speculations about the new government's intentions to remove Emirs appointed by the previous Governor, Abdullahi Umar Ganduje, and reinstate Sanusi II as the sole Emir of Kano have been circulating, adding to the atmosphere of uncertainty.
The State House of Assembly recently denied any involvement in plans to abolish the newly created emirates.
However, the picture of the dethroned Emir has been circulating rapidly on social media platforms, causing fear and apprehension among residents.
The government's Chief Press Secretary to the Governor, Sanusi Bature Dawakin-Tofa, explained that the placement of Emir Sanusi's portrait in the coronation hall is part of an ongoing facelift project for the hall.
According to Dawakin-Tofa, the history of the coronation hall is closely tied to the 14th Emir, Muhammadu Sanusi, as it was constructed for his presentation of the staff of office after succeeding late Alhaji Ado Bayero in 2014 during the administration of Sen. Rabiu Musa Kwankwaso.
"The tradition dictates that his picture shall remain there forever," Dawakin-Tofa emphasized, "Bringing back the portrait of the 14th Emir is a crucial part of the ongoing rehabilitation to give the Coronation hall a face lift."
As the situation continues to unfold, the resurfacing of Emir Sanusi II's portrait has undoubtedly stirred emotions and sparked heated debates across Kano.
The implications of this development remain to be seen, and residents are closely monitoring the unfolding events.
Stay tuned for further updates as we delve into the history and significance of Emir Sanusi II's reign, the current political landscape, and how this intriguing turn of events might impact Kano's future.