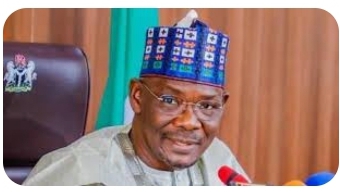 By Solomon Attah, Lafia
In the midst of swirling speculations about his involvement in the political setbacks faced by prominent Nasarawa State leaders, Governor Abdullahi Sule steps forward to clear the air.
Two influential figures, Abdullahi Adamu and Umaru Tanko Al-Makura, once at the forefront of Nasarawa State's political landscape, found themselves engaged in a fierce battle for the National Chairman position within the All Progressives Congress (APC).
This showdown ultimately resulted in Adamu's victory, backed by the support of the presidency and former President Mohammadu Buhari.
While Al-Makura's fervent endorsement of Asiwaju Bola Ahmed Tinubu for the 2023 presidential election raised eyebrows, his aspirations went beyond mere campaign efforts.
Speculations swirled that Al-Makura had his sights set on a ministerial seat within Tinubu's potential government, further fueling the intrigue surrounding his political maneuvers.
Governor Sule, however, strongly denies any involvement in Al-Makura's lack of nomination for the ministerial role.
His Senior Special Adviser, Peter Ahamba, issued a statement debunking the claims and denouncing the intentions of those seeking to create discord between the governor and the former political leaders.
Addressing the media publication titled "How Gov Sule Plotted the Exit of Adamu, Al-Makura in Nasarawa Politics," Governor Sule's office clarifies the record.
The statement highlights his consistent support for Al-Makura and his endeavors, even extending to the 2023 Senatorial election.
Although the electoral tide turned against Al-Makura, his willingness to withdraw his petition demonstrated a spirit of unity and a desire for a harmonious Nassrawa State.
Recent events saw President Bola Ahmed Tinubu requesting APC-controlled state governors to submit names for ministerial consideration.
Al-Makura's name prominently featured on Governor Sule's list, showcasing the governor's respect for his predecessor's contributions.
The narrative takes a turn as attention shifts to former Governor Abdullahi Adamu.
Despite the media's attempt to link Governor Sule to the internal strife that led to Adamu's resignation as National Chairman of the APC, the statement firmly refutes such claims.
It highlights Governor Sule's unwavering support for a Nasarawa State member to hold the National Chairman position, while also opposing calls for Adamu's ousting earlier in the year.
Respect for the state's founding fathers, Senators Al-Makura and Adamu, remains at the core of Governor Sule's approach.
His commitment to their contributions and to the state's progress underscores his dedication to a united Nasarawa State.
As this exposé reveals, the allegations against Governor Abdullahi Sule regarding the political setbacks faced by Abdullahi Adamu and Umaru Tanko Al-Makura lack a factual basis.
The carefully crafted statement by the governor's office dismantles the accusations, exposing the motivations behind attempts to create disarray within the state's political leadership.
In the end, Governor Sule emerges as a staunch supporter of unity, respect, and the progress of Nasarawa State.