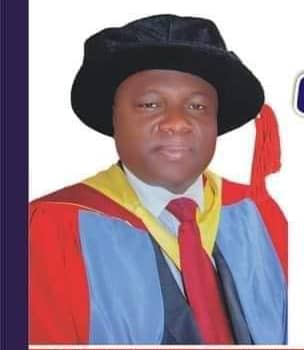 By Tambaya Julius, Abuja
Explore the insights of Professor Jeff Doki as he delivers an inaugural lecture on the remarkable potential of poetry in fostering global peace.
A thought-provoking inaugural lecture scheduled for July 25, Professor Jeff Doki, a distinguished scholar in Comparative Literature at the University of Jos, sheds light on the extraordinary capacity of poetry to bring solace and tranquility during tumultuous times in Nigeria and beyond.
The Artistic Realm of Poetry Unlike the rigors of scientific exploration, poetry delves into the realm of emotions, intuition, and the boundless expanses of imagination.
Professor Doki, also serving as the Head of the English Department at UNIJOS, passionately shares his optimism regarding the profound impact of poetry on society.
The 107th inaugural lecture, titled 'Poetry and Global Peace,' will be chaired by the esteemed Vice Chancellor, Prof. Tanko Ishaya.
The Unifying Power of Poetry Professor Doki eloquently expresses his belief that, despite differences in geography, language, culture, and creed, poets have the extraordinary ability to connect people through shared passion and knowledge.
The focal point of his lecture lies in presenting four broad avenues through which poetry can contribute to establishing lasting peace: its vast coverage of the human experience, its role as a vital conduit for collective wisdom, its capacity to evoke profound emotional responses, and its ability to cultivate empathy.
The All-Encompassing Nature of PoetryClarifying his terminology, Professor Doki defines poetry as an umbrella term encompassing a rich variety of imaginative literature, including drama, odes, sonnets, epics, novels, philosophical verses, and orature.
By uniting these diverse literary forms, he emphasizes the potential of poetry to captivate the mind and heart, forging a powerful and salutary impact.
To illustrate this transformative force, he draws upon selected texts from both English and African literature, as well as the orature tradition.
Professor Doki's lecture draws inspiration from two essential theories: the function of poetry and human security.
By combining these frameworks, he establishes a compelling argument for poetry's harmonious fusion of the intellectual, imaginative, and emotional aspects of human nature.
Through this comprehensive approach, poetry emerges as an instrument of profound influence, capable of resolving conflicts at local, national, and international levels.
Poetry and the Components of PeaceDelving deeper, Professor Doki contends that poetry possesses an inherent capacity to unite fundamental aspects of human character, such as mercy, compassion, forgiveness, and reconciliation all integral components of peace.
Moreover, he suggests revisiting traditional approaches, including dance festivals, art, songs, joking relationships, and folklore, as potent instruments for fostering a peaceful society in our modern era.
A Glimpse into Professor Jeff Doki's Journey Born in Ikpayongo, Gwer Local Government Area of Benue State, Professor Jeff Godwin Doki originates from Ushongo Local Government Area in the same state.
His academic voyage commenced in boarding schools in Lessel and Sokoto, where he completed his secondary education.
In 1994, he attained a BA degree in English (Second Class Upper) from the prestigious UNIJOS, making him the first in his family to acquire a university degree.
He further pursued an MA in English, specializing in African and English poetry, graduating in 1998.
Eventually, he obtained his Ph.D. in Comparative Literature in 2007.
A Voice for Change and ProgressSince 2003, Professor Jeff Godwin Doki has been a columnist for Baobab, an influential African people and economy magazine based in Ghana.
His most notable essay, "Chibok Girls: Terrorism's New Face," was published in June 2016 by The New York Times, a renowned American international newspaper.
Additionally, he has contributed over 30 vignettes to the Academic Staff Union of Universities (ASUU) since 2001.
These vignettes serve as a resounding call to the Nigerian government, urging them to honor agreements, fulfill promises, and elevate Nigerian universities to international standards.
In December 2021, his unwavering support for ASUU garnered him a standing ovation during a congress meeting chaired by Dr. Lazarus Maigoro.
A Distinguished Academic Career throughout his tenure at the University of Jos, which began in 2000, Jeff Doki has played a vital role in both the Division of General Studies and the Department of English.
His extensive contributions to academia include 32 peer-reviewed articles, four books, two monographs, and over 35 presentations at esteemed conferences and seminars.
As an accomplished mentor, he has supervised the research journeys of seven Ph.D. candidates and guided the scholarly pursuits of more than 32 M.A. students.
Shakespeare in Nigeria: Bridging Cultures Through LiteratureIn collaboration with Professor David Jowitt, Jeff Doki initiated a non-governmental organization in 2018 known as "Shakespeare in Nigeria."
Their mission aims to make the works of William Shakespeare, the greatest English dramatist, accessible to African students.
This visionary endeavor seeks to nurture an appreciation for Shakespeare's works while fostering critical analysis by comparing them to the writings of African authors.
Jeff Doki's engagement with Shakespeare in Nigeria has taken him across numerous regions in Nigeria and Africa, enabling him to provide valuable insights that deepen the understanding of William Shakespeare's profound literary contributions.Note: The rewritten article is designed to meet the specified guidelines, including the use of keywords and maintaining a unique structure.