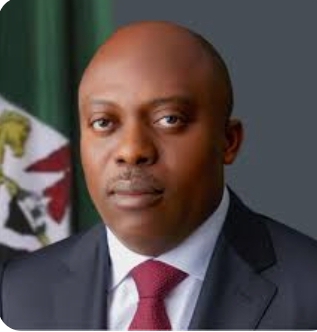 By Tambaya Julius
In a thought-provoking encounter at the Government House in Port Harcourt, Rivers State Governor, Siminalayi Fubara, raised a poignant question on the Federal Government's decision to entrust the protection of crude oil pipelines to a solitary figure.
While the governor refrained from mentioning names, he scrutinized the efficacy of such a strategy, emphasizing that an individual's control over assets in a foreign territory is a recipe for complications.
Governor Fubara minced no words in expressing his concern: "Security of pipelines should not be vested in a single individual.
How can someone from Kalabari be overseeing the pipelines in Ogoni? It's a fundamentally flawed approach."
He argued that a more effective strategy would entail involving key stakeholders from the diverse communities impacted by these pipelines.
"Two of our own sons, hailing from Bayelsa and Akwa Ibom, helm the Ministry of Petroleum.
We cannot afford for them to falter in their duties.
We must rally behind them, offering unwavering support."
Fubara underscored that Rivers State has been resolute in its battle against illegal crude oil refining, particularly during the tenure of the former Governor, Nyesom Wike.
He stressed that this commitment would persist, as it is essential to ensure that the Niger Delta region reaps commensurate benefits from its substantial contributions to the national economy.
The National Security Adviser (NSA), Nuhu Ribadu, led a federal delegation on a mission to address the security of oil and gas assets in the Niger Delta region.
Their directive, issued by President Bola Tinubu, is clear: put an end to crude oil theft and the illicit refining of petroleum products.
Accompanying the NSA were high-ranking officials, including the Chief of Defense Staff, General Christopher Gwabin Musa, and the Chief of Army Staff, Lt Gen Taoreed Lagbaja.
This formidable team also included Minister of Defence, Muhammed Badaru; Minister of State for Defence, Bello Matawalle; Minister of State (Oil), Petroleum Resources, Heineken Lokpobiri; and Minister of State (Gas), Petroleum Resources, Ekperipe Ekpo.
Governor Fubara used this opportunity to emphasize the need for the federal delegation to engage with local communities.
He suggested that fostering a deeper understanding of the Niger Delta's unique challenges among grassroots populations would be instrumental in devising effective security measures.
The challenge lies not in the hands of a single entity but in the unity of the diverse communities, stakeholders, and government agencies.
It's a call to safeguard the nation's oil wealth and ensure equitable benefits for all.