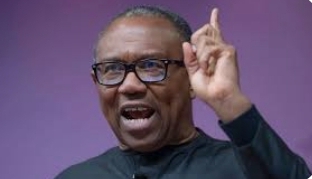 By Tambaya Julius
Peter Obi, the Labour Party's Presidential Candidate, is taking a bold step to challenge the recent ruling by the Presidential Election Petitions Court (PEPC) led by Justice Simon Haruna Tsamani.
On September 6, 2023, the PEPC delivered its long-anticipated judgment on the petitions challenging the outcome of the presidential election held on February 25, 2023.
This judgment, delivered within the statutory timeframe, has sparked a significant response from Peter Obi and the Labour Party.
Peter Obi, as a presidential candidate and representing the Labour Party, expressed his disagreement with the PEPC's reasoning and conclusions.
He intends to challenge this judgment by filing an appeal, exercising the rights granted by the Constitution of the Federal Republic of Nigeria.
His determination to seek justice is resolute, driven not only by personal interests but also by the mandate of countless supporters across the country.
While the PEPC has delivered its judgment, it's crucial to remember that this esteemed body is not the final arbiter.
The responsibility now rests with the Supreme Court. Peter Obi emphasizes that judgment and justice are not synonymous.
He calls upon Nigerians to maintain focus, steadfastness, and peace, abide by the rule of law, and understand that this matter has not yet reached its logical conclusion.
Peter Obi's stance on the matter extends beyond his own quest for justice.
He underscores the significance of solid national institutions and the confidence placed in them.
He argues that electoral litigations would be nearly unnecessary if the Independent National Electoral Commission (INEC) fulfills its statutory duties with transparency and discernible fairness.
When INEC falls short, as it did in recent times, subverting the will of Nigerian voters, the judiciary becomes the necessary recourse.
Peter Obi closes his address by expressing gratitude to every Nigerian who has supported the cause and campaign for a New Nigeria characterized by fairness, equity, justice, the rule of law, peace, prosperity, inclusiveness, sustainable growth, and development.
He thanks his legal team, the Labour Party, the Obidient Family, and all those who attended the court trials.
In his closing words, he reaffirms that a New Nigeria is both possible and achievable.