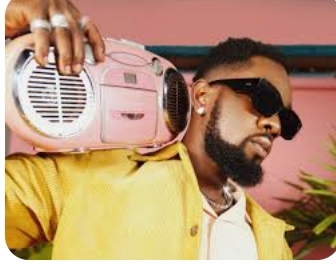 Patoranking, the celebrated Nigerian artist known as Patrick Okorie, has taken the music world by storm with his latest masterpiece, the fourth studio album titled "World Best."
This album represents a modern fusion of genres driven by themes of love, life, and profound lyricism.
Patoranking's musical journey has gained worldwide acclaim, evident from his staggering achievements, including over 500 million YouTube views and a staggering quarter of a billion DSP streams for his 2020 album, "Three."
In "World Best," he solidifies his status as a global sensation by collaborating with international icons.
Notable names such as the American hip-hop legend Ludacris, Jamaica's dancehall maestro Beenie Man, and Kingston's unruly boss Popcaan all make their mark on this exceptional album.
While Patoranking continues to embrace his homegrown sound, "World Best" also celebrates the diversity of African talent.
The album features collaborations with artists like Kizz Daniel (Nigeria), Diamond Platnumz (Tanzania), Victony (Nigeria), Gyakie (Ghana), Zion Foster (UK/Nigeria), and many more.
This blend of voices and styles creates a musical tapestry that transcends borders and cultures.
"World Best" doesn't just impress with its star-studded lineup but also with its diverse production.
Renowned African producers such as Phantom, Kel P, Killertunes, C-Tea, Mix Master Garzy, and others have lent their talents to craft a lush soundscape filled with synthesized beats and rich instrumentation.
This unique blend sets a celebratory tone that promises to captivate audiences from start to finish.
Patoranking teased his fans with key tracks from "World Best" over the past year.
Hits like "Kolo Kolo" featuring Diamond Platnumz garnered nearly 30 million YT video views and received the prestigious Best East Meets West Collaboration award at the East Africa Arts Entertainment Awards (EAEA) in 2023.
Other tracks like "Abobi" and "Higher" showcase Patoranking's musical versatility and knack for crafting infectious rhythms.
Throughout "World Best," Patoranking's collaborations shine brightly.
The album features contributions from artists like Ludacris, Kizz Daniel, Zion Foster, Beenie Man, Gyakie, and more.
Each artist brings their unique talents to the table, resulting in a diverse and captivating musical journey that transcends boundaries and genres.
"World Best" stands as a testament to Patoranking's evolution as an artist.
His ability to bridge cultures and genres solidifies his place as one of Africa's leading musical talents.
This remarkable release follows his successful albums: "God Over Everything" (2015), "Wilmer" (2019), and "Three" (2020).
Patoranking's "World Best" is not just an album; it's a global musical triumph that showcases the power of music to unite and inspire people across the world.
With its fusion of genres, diverse collaborations, and captivating melodies, this album is set to leave an indelible mark on the music industry.