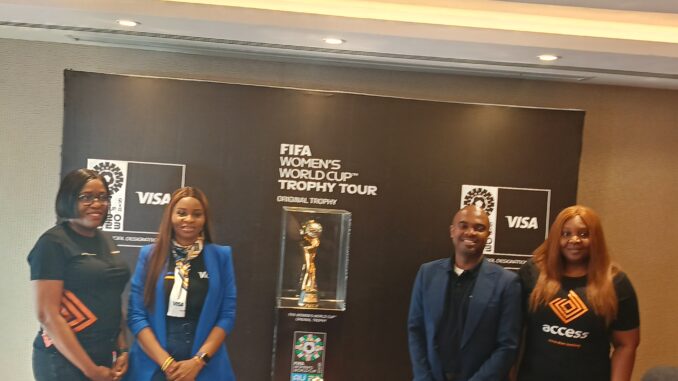 By Abubakar Yunusa
ABUJA — Ahead of FIFA Women's World Cup trophy to be competed for by 32 teams from across the globe from July 20 to August 20, Visa in Partnership with FIFA has Unveiled the Original Trophy in Abuja.
Speaking at the unveiling in Abuja yesterday, Vice President Visa, West Africa, Andrew Uaboi, said visa sees the partnership with FIFA Women's World Cup as an opportunity to showcase the passion that comes with football.
According to him, "As we all know, football breeds a lot of passion in us, it is a force for bringing and connecting people, and it is a force that we believe can be utilized to bring change in the world. That is why we have decided to partner with FIFA and this partnership has been ongoing for quite a bit, like 15 years.
"But in 2021 We took a deliberate decision to partner with the FIFA 2023 World Cup. For those of you that are followers of FIFA women's football 2019, you notice that the average number of games or the number of viewers per game was somewhere around 8.3 million in 2019. It doubles by about 17 million, which tells you that the appetite for FIFA Women's Football is also on the rise.
"We also see the World Cup as an opportunity for us to showcase the inclusiveness and the gender equity that football can bring for women".
Speaking further, he said what we are doing is not just an investment in hard-earned resources, but it is also an opportunity to showcase and bring young girls and women around the world. What they can do and also what they can use to showcase their talent and also as a platform to embody and enhance themselves.
"So for us, it's not just an opportunity, to just bring the trophy to everybody to see and also give the young ladies an icon, a platform through which they can identify and aspire to be into great individuals, Andrew said.
On her part, a Member of the Visa team, Mrs. Seun Dramola said we are here today to showcase that we(Visa) truly believe in Nigerian talent and we are very much happy about super falcon qualified for FIFA Women's World Cup.
"We are supporting them because football is a unifier and also derived gender equality, that is what Visa is passionate about because we have been very focusing women's development and that is why we are doing what we are doing", she said.