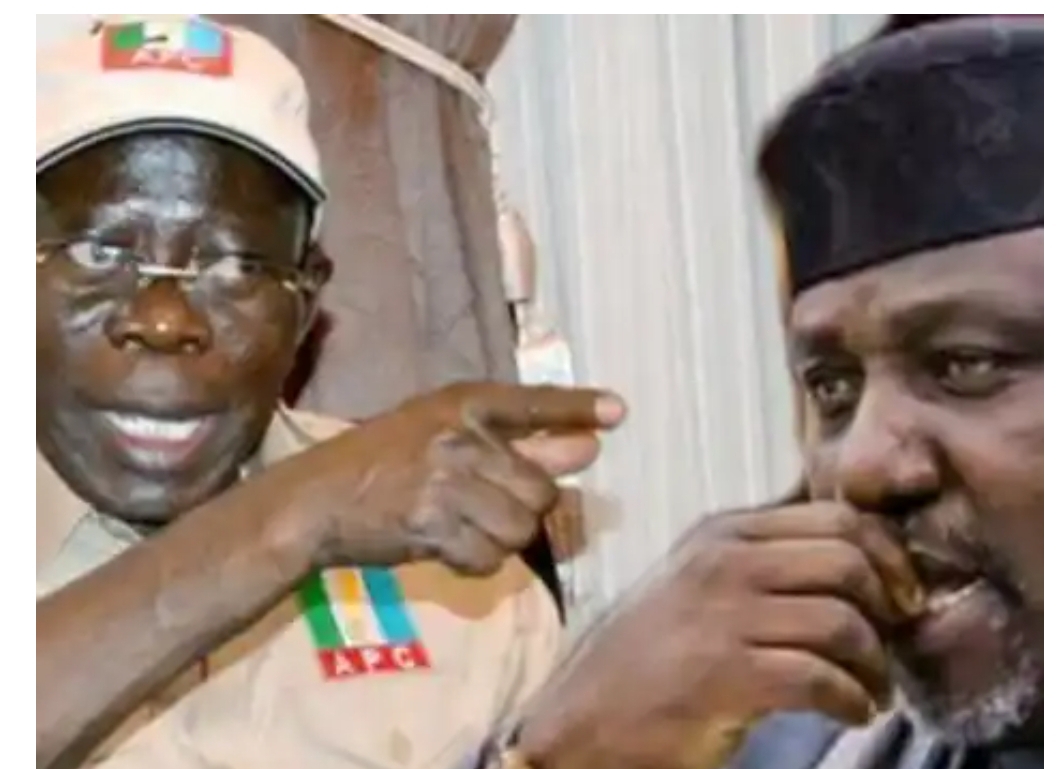 Former Governor of Edo State and Senator-elect, Comrade Adams Oshiomhole had a public spat with former Imo State governor, Senator Rochas Okorocha and a former Senate Chief Whip, Senator Victor Kassim Oyofo, at a public event yesterday in Abuja.
The trio exchange words at the first Senator Ekpemoriri Lamai Memorial Lecture organised by Senator E. A Lamai Foundation, with the theme 'Nigerian Senate and the Quest for Nation Building: 1st-4th Republic.'
Lamai, a First Republic Senator from Fugar, Etsako Central Local Government Area, Edo State, died on May 14, 2009.
Oshiomhole who said his differences with Owelle Okorocha was purely on issue of obeying the law and nothing personal, also tackled former Senate whip, Senator Victor Kassim Oyofo for alluding that former governors go to the Senate to display opulence.
Okorocha who was one of the panelists had joking alleged that Oshiomhole was one of the problems of the country and thank God that he would be going to the Senate to fix the problems.
The comment seems not to have gone down well with Oshiomhole, who said, "My brother (Okorocha) said I am the problem of Nigeria and he is happy that I am going to the Senate. I take the last part. He is happy for me so he would organise a dinner in my honour. There will also be a dinner to mark your exit. So as you are going, I am coming in.
"When people say small man like me, because big people think that mere reference to their size should not obey law when a small man is presiding. And when they say we are short, I hardly see what am short off. There is nothing anybody has that I don't have. When they talk about economies of scale they don't also forget to talk about dis-economics of scale."
Turning to Okorocha, he said, "My brother, my brother, you know what caused our misunderstanding. You are my good friend till tomorrow. It is just that for me, laws are meaningful when those who are powerful are subjected to obey the law.
"So sir, be rest assured, I appreciate you, I respect you but you must learn to obey the law. Don't look at my size particularly, when I am obliged to take an oath that I shall defend the constitution. Once we go out now, I am going to hug you and I must insist you organise a dinner for my coming to Senate."
Oshiomhole who seems not to also enjoy the remark of the Chairman of the day, Senator Oyofo, who said governors retire to Senate to live life of opulence fired back.
He said, "Nigeria was already on its way to Zimbabwe when you have a life president. When President Obasanjo wanted to amend our constitution, which should have been the beginning and the end. No gun was shot, just the power of AIT and other media, covering the session life to the credit of the National Assembly they shut down that third term bid. But the other thing with my big brother. My pension is N1.250, 0000.
"So when you talk of opulence and corruption is not something that is restricted to government. For every government official that is corrupt, there are three, four, five businessmen who are even much more corrupt. They are the treasurers of public officers.
"So if my brother left the oil industry wealthy, and went to the Senate to live in luxury then why are you envious of me that left the Labour. One kobo gratuity I did not receive, even my official car, I handed it over, because that is the rules of Nigeria Labour Congress. We used the word struggle.
"So when we make sweeping generalisation about people living in wealth going to the Senate to leave in luxury.
"When I knew you as a Senator, I did not see you in luxury. I thought you were working. Actually that is what you told our people. It was only today you say it that the place is for luxury."
But, Oyofo in his response said a Google search be made between himself and Oshiomhole to know who made money from government.
He said, "Google my name and say what is the net worth of Senator Oyofo, they will tell you. In the same manner, Google the name of Oshiomhole and say how much is he worth, Google will tell you then you can be approaching the issue of defining corruption. So it is not about just standing making things look like a joke.
"The truth is that we are in the grip of corruption and unless we stand up to it and admit it, we are going to pay dearly. It is not a laughing matter or a joking matter.
"Anybody you know his name in Nigeria, ask Google what is the net worth and search for profession they belong to and what they were doing whether they own businesses. I worked for 30 years finding oil for Nigeria," Senator Oyofo said.
Oyofo had earlier in his opening remarks advocated for part-time legislators for the country, saying the cost of governance is bloating every day.
The former Senate Chief Whip of the Senate who chaired the lecture quoted #openNass, which stated that in 2017 alone, the lawmaker cost the taxpayers $54,000 each.
He said, "After more than 20 years, it has proved ineffective and expensive. According to #openNass organisation, in the year 2017 alone, a lawmaker cost the taxpayers $54,000 each this is 10,000 times more than the minimum wage and 200 times the National Gross Domestic Product per capital.
"This leads to unemployment, insecurity. The trend should not be allowed to continue. If it continues, it will create insurmountable problems that will consume the nation.
"It has become obvious that politics is the quickest way to an unearned wealth. The situation was execrated by immunity clause which allows governors to be immune from closer examination. Many for example have treated their security votes which amount to billions as pocket money."
"This trend is not unnoticed by the populace, even if they appear hopeless and speechless. Common sense would say that events we are growing as they are already manifesting in the killing of citizens and insecurity.
"What the senators must do now is to examine the country critically, and the Presidential system that we have adopted without any cloud in their eyes.
"They must have the courage to chat a different course all together and restructure the country for productivity and continuation for joy and happiness and for purposeful existence."
However, former Edo State Governor, Senator Oserheimen Osunbor, disagreed with him as he said that it is not the budget of the National Assembly that is responsible for the magnitude of the challenges confronting the country.
Osunbor also said that the nation is better off with a bicameral legislature other than a unicameral legislature.
He stressed the importance of the Senate to democracy, saying it is what gives the states equal representations.
Another panelist, Senator Abubakar Umar Gada said the problem is not the senate but corruption which has become endemic.
Gada said the budget of the Senate is just 2.5 percent of the National budget.
In his address, the Executive Director, Senator E.A. Lamai Foundation, Chief Richard Lamai, said the senate and other legislative arms were the only distinctive organs differentiating other forms of government.
"As our nation enjoys uninterrupted period of participatory democracy in this 4th Republic, it is apt to analyse the effect of democratically derived legislation and policies by the senate on the development envisioned by the likes of my father, Senator E.A Lamai through this lecture by eminent experts in jurisprudence, constitutional, commercial law, executive and renowned business gurus," Lamai said.
Delivering the lecture titled 'X-raying the Nigerian Senate (1st-4th Republic) as a Tool for Nation Building,' Chief Mike Ozekhomhe (SAN), said the Nigerian Senate holds a crucial position as the upper chamber of the country's bicameral legislature, actively shaping the nation's political landscape and policy framework.
"Throughout Nigeria's history, from its first Republic to the present day, the Senate has served as a significant platform for national deliberation, legislation, and representation," Ozekhomhe said.