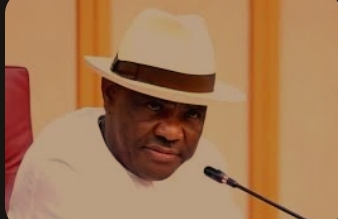 Nyesom Wike, the former Governor of Rivers State and now serving as the Federal Capital Territory Minister, has taken a bold stance within his own party, the opposition Peoples Democratic Party (PDP).
In an exclusive interview broadcasted on Channels Television, he challenged the party's leadership and its practices, particularly the issue of impunity that has plagued the party's cohesion during and after the 2023 elections.
During the "Politics Today" programme, Minister Wike did not mince words as he criticized his party, PDP, for what he deemed as impunity within its ranks.
He emphasized that this very impunity was a significant factor that fueled the party's internal strife, both before and after the 2023 elections.
Wike pointed out that it was inconceivable for anyone within the party to consider expelling him, given his substantial contributions to the PDP.
He highlighted the crucial role played by Rivers State in the party's success:
"A state that provided the Governor."
"A State that brought three Senators."
"A State that produced 32 Assembly members."
"A State that produced 11 out of 13 House of Reps."
Minister Wike firmly stated that those who sought to suspend him were unable to achieve similar feats within the party, saying, "The person that wants to suspend me is the one that couldn't produce a Governor or three Senators or Assembly.
I've not seen that person that will suspend me in PDP.
Nobody will do it."
Defending his character, Wike declared that he was prepared to champion discipline within the party and ensure adherence to the party's constitution regarding rotation.
He openly challenged anyone who dared to suggest his suspension.
"I should be the one calling for discipline for those who violated the party's constitution on rotation," he asserted.
"I want to dare anyone who will say I should be suspended. I'm a man of character."
He further emphasized that he had communicated his nomination to the party, and they had responded affirmatively, asking him to accept it.
Minister Wike dismissed any negative talk surrounding his nomination, stating, "Forget about their rantings.
They are all regretting their actions.
And that's what led the party to what it is today.
I worked in favour of justice, equity, and fairness.
God supports the action we've taken to support President Bola Ahmed Tinubu."
Interestingly, Minister Wike disclosed that there were members within the All Progressives Congress (APC) who were not pleased with his nomination as a Minister by President Tinubu.
He also revealed that he was not consulted by the APC when they included his name as a member of the National Campaign Council for the November 11, 2023 governorship election in Bayelsa State.
"Some APC members are not happy that I'm FCT Minister," he stated.
"At my level, do I need to play games? Why will you put my name? I'm still a member of PDP.
I'm not a kid.
If I want to play a role, I will.
I'm not a member of APC."
His actions and statements continue to make waves, both within his party and across the aisle in the APC.