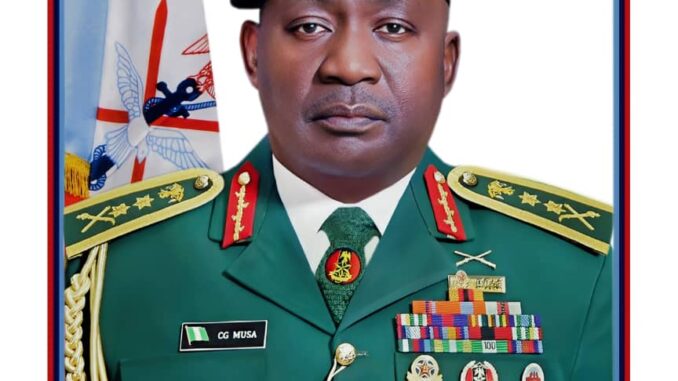 The Northern Minority Muslims (NMM), a faith-based group, has come forward to express their strong support for President Bola Ahmed Tinubu's timely and auspicious appointment of Gen. Christopher Gwabin Musa as the Chief of Defense Staff of Nigeria.
In a communique signed by Mallam Dahiru Musa Wamba, the national coordinator, the NMM emphasized the need for military assignments to be based solely on professionalism, devoid of any political or religious considerations.
They applauded Gen. Christopher Gwabin Musa's appointment, acknowledging his exceptional track record as a combatant both within Nigeria and abroad.
His significant contributions in curbing banditry and insurgency have brought relative peace to various regions in the country.
The NMM expressed their concern over a viral video in which an Islamic cleric made malicious statements regarding Gen. Christopher Gwabin Musa's appointment.
They condemned such comments, highlighting the importance of avoiding self-adulation and prioritizing meritocracy when evaluating appointments.
The group deemed it unfair to cast aspersions on the minority tribe of Zangon Kataf, emphasizing their history of suffering from unprovoked killings, land grabbing, enemy occupation, and property destruction.
The faith-based group strongly believes that the security situation in Nigeria demands a shift away from political patronage towards embracing professionalism.
They emphasized the urgency of addressing challenges posed by separatist groups, insurgency, banditry, kidnapping, political assassinations, and corruption across the nation.
Calling for immediate action, the NMM urged security agencies to arrest and investigate the Islamic cleric responsible for the inciting comments that were propagated across various social media platforms.
They stressed the importance of preventing such provocative remarks from tarnishing the hard-earned integrity of patriotic Nigerians.
Their unwavering support for professionalism in military assignments serves as a testament to their commitment to a united, secure, and peaceful Nigeria.