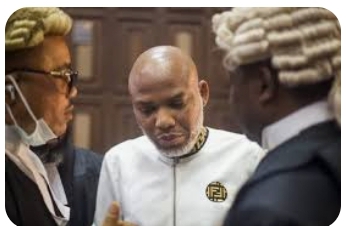 By Tambaya Julius
In a bold declaration, Nnamdi Kanu, the detained leader of the Indigenous People of Biafra (IPOB), has refused to entertain pleas for his release from the Federal Government of Nigeria.
He categorically stated that seeking his release at this juncture would be tantamount to an insult to the memory of the late Pa Mbazulike Amaechi.
During a recent meeting with his legal team, led by the esteemed Prof. Mike Ozekhome, SAN, within the confines of the DSS prison, Kanu recounted the poignant tale of Pa Amaechi's persistent efforts to secure his release.
Despite Pa Amaechi's advanced age and ailing health, he embarked on numerous journeys from the South-East to Abuja, imploring the Federal Government to honour his final wish.
Regrettably, these earnest pleas were met with utmost disregard.
Barr. Ifeanyi Ejiofor, documenting the visit, conveyed Kanu's heartfelt appreciation to individuals and groups advocating for his release.
However, Kanu emphasized that his legal situation is unique.
He drew attention to a pivotal judgment delivered by the Court of Appeal on October 13, 2022, which not only validated his discharge but also explicitly prohibited any further trial or detention.
As of this moment, there are no pending charges against Nnamdi Kanu in any court.
With unwavering conviction, Nnamdi Kanu avows that he does not need to supplicate the Federal Government for his freedom.
The pronouncement by the Court of Appeal stands as an unassailable testament to his legal status.
Consequently, he firmly rejects the notion of begging for his release, maintaining that it would dishonour the memory of Pa Mbazulike Amaechi.
In light of Nnamdi Kanu's continued and, in his view, illegal detention, the onus falls on the Supreme Court to expedite the hearing of the Appeal filed by the Federal Government.
This call aligns with the Criminal Appeals Practice Directions of the Supreme Court and seeks to provide swift resolution to this complex legal saga.
During the visit, Prof. Mike Ozekhome expressed deep concern over the deplorable conditions of Kanu's detention facility under the Department of State Services.
In response, he urged the Chief Judge of the High Court of the Federal Capital Territory to appoint a Magistrate for an official inspection of the detention centre, highlighting the need for humane treatment even in detention.
Nnamdi Kanu's unyielding stance in the face of his incarceration remains a focal point in the ongoing debate over his release.