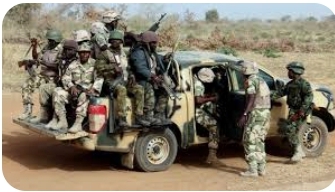 By Tambaya Julius, Abuja
Nigerian troops have demonstrated remarkable achievements in countering terrorist and bandit activities across multiple regions – North East, North Central, and North West In the past two weeks.
Under the guidance of Maj.-Gen. Edward Buba, the Director of Defence Media Operations, the Armed Forces of Nigeria have executed successful operations on both land and air.
In the North East region, troops of Operation Hadin Kai have struck a decisive blow to terrorist elements.
Through a series of well-executed missions in Mafa, Kukawa, and Konduga Local Government Areas of Borno, several terrorists met their end.
The security forces have also apprehended high-profile terrorist collaborators during these operations, boosting the overall success rate.
An intriguing development in the fight against terrorism is the surrender of active terrorists and fighters to the Nigerian troops.
As a result of relentless and sustained operations against these threats, many militants have claimed to renounce the terrorist ideology.
Such transformations serve as a testament to the effectiveness of the Armed Forces' actions.
The Air Component of Operation Hadin Kai has played a crucial role in neutralizing terrorist enclaves and their logistics bases.
Utilizing air reconnaissance and intelligence, the troops have targeted hideouts in Hyawa, Borno, with precision bombs.
This approach has not only resulted in the neutralization of numerous terrorists but has also led to the destruction of their structures and resources.
Operation Safe Haven has been instrumental in raiding criminal hideouts in Mangu and Jos South Local Government Areas of Plateau State.
These raids have led to the successful recovery of weapons, weakening the criminal network's capabilities and ensuring greater safety for the local population.
In separate operations, troops of Operation Whirl Stroke conducted daring raids on kidnappers' hideouts.
As a result, kidnapped victims in Duduguru village, Obi Local Government of Nasarawa State, and Chinkai Forest, Wukari Local Government Area of Taraba, were safely rescued.
These operations not only disrupted the kidnappers' operations but also struck a significant blow against their criminal endeavors.
The troops of Operation Hadarin Daji have launched five distinct operations in the North West region, targeting bandit hideouts in Batsari, Tangaza, and Maru Local Government Areas of Katsina, Sokoto, and Zamfara States.
These raids have resulted in the elimination of numerous bandits and the arrest of six terrorists from Niger and five others in different locations.
To curtail the freedom of terrorist groups, the air component has carried out several air operations, including targeted strikes on logistics bases.
These efforts have hindered the movement and activities of the terrorist factions.
The successful land and air operations, coupled with the rescue of kidnapped civilians, have brought renewed hope in the fight against insurgency.
The Armed Forces of Nigeria continue to demonstrate their proficiency and dedication in creating a safer and more secure nation for all.