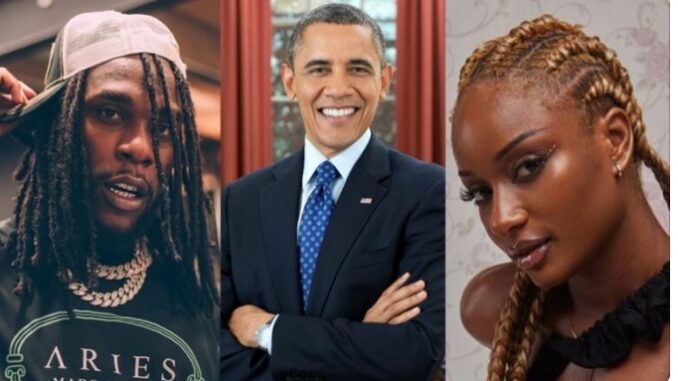 By Tambaya Julius, Abuja
Former US President Barack Obama's musical taste is back in the spotlight as he unveils his summer playlist for 2023.
This year's selection boasts a delightful addition with the inclusion of Nigerian music stars Burna Boy and Ayra Starr.
Alongside other esteemed artists like Jorja Smith, SZA, J Hus, Drake, Nas, and Rosalia, the Nigerian duo adds their unique musical flair to an already vibrant collection of classic and new records.
Burna Boy's Soulful Rhythm: "Sittin' On Top Of The World"Among the captivating tracks on Obama's summer playlist is "Sittin' On Top Of The World" by the immensely talented Burna Boy.
This soulful rhythm from the Nigerian superstar strikes a chord with listeners worldwide, earning its rightful place on Obama's exclusive list.
The song's infectious beats and heartfelt lyrics showcase Burna Boy's musical prowess and global appeal.Another rising star from Nigeria, Ayra Starr, mesmerizes listeners with her enchanting song titled "Sability."
Gracing Obama's summer playlist, this melodious masterpiece highlights Ayra Starr's exceptional vocal range and songwriting finesse.
The track's unique sound and emotional depth make it a standout addition to the collection, leaving listeners craving more from this promising artist.
For Nigerian artists, Burna Boy and Ayra Starr, this is not their first time making it onto Obama's coveted playlists.
Burna Boy's hit "Last Last" earned its spot in the 2022 summer playlist, solidifying his presence on the international stage.
Likewise, Ayra Starr's "Rush" graced Obama's 2022 end-of-the-year playlist, further establishing her as a rising star with global recognition.
Burna Boy and Ayra Starr join the ranks of other Nigerian sensations who have captured the attention of the former US President.
Wizkid, Rema, and Tems have all left their mark on Obama's playlists, showcasing the incredible depth and diversity of talent emanating from Nigeria's music scene.
Their inclusion underscores the country's rich musical heritage and its growing impact on the global stage.
With their enchanting compositions, these talented artists contribute to the rich musical legacy celebrated by none other than the former President of the United States himself.