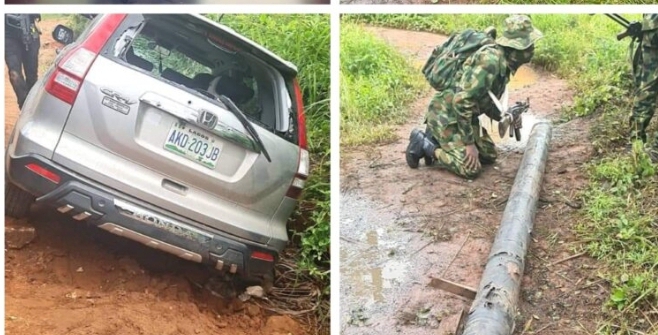 The 31st of July 2023 witnessed a significant milestone as the combined troops of 82 Division Nigerian Army, Nigeria Police, and other security agencies carried out a daring raid on hideouts and training camps belonging to the Indigenous People of Biafra (IPOB) and its armed wing, Eastern Security Network (ESN), in the expansive Orsomoghu Forest, extending across Anambra and Imo States.
The daring operation was in response to the illegal and disruptive two-week sit-at-home order declared by IPOB and ESN in Onitsha, Nnewi, Iheme Obosi (Anambra State), and New Market (Enugu State).
The enforcement of this order posed a serious threat to the safety and stability of the region.
During the meticulously planned raid, the troops encountered armed fighters from the irredentist group.
The hostile confrontation led to the detonation of Improvised Explosive Devices (IEDs), colloquially known as Ogbunigwe, and the use of locally fabricated mortar tubes.
Despite facing such dangers, the valiant troops managed to overpower the dissidents in the ensuing firefight, compelling them to abandon their positions and flee into nearby forests, leaving behind evidence of their criminal activities.
The determination of the troops led to the successful clearing of IPOB camps in Ekeututu, Orsomoghu, Lilu, and Mother Valley.
Additionally, during the cordon and search of the hideouts, five fleeing members of the group were apprehended, and several items of importance were recovered, including one IPOB flag, one CCTV camera, two detonated IED bombs, and a fabricated mortar tube.
Regrettably, five soldiers and two Nigeria Police operatives sustained injuries from the detonation of the IEDs by the criminals.
Nevertheless, the Nigerian Army urged all law-abiding citizens of the South East to disregard the unlawful sit-at-home order and continue with their daily activities and businesses.
It is the collective responsibility of the people to support ongoing operations with actionable information to ensure the safety and stability of the region.
The Nigerian Army, in collaboration with sister services and security agencies, reaffirms its unyielding commitment to safeguarding the lives and property of the good and enterprising people of South East Nigeria.
All efforts will be carried out within the boundaries of the law and rules of engagement to maintain peace and prosperity in the region.