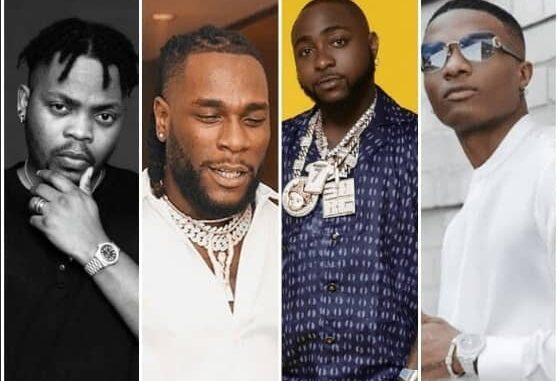 Elanza News looked at and explored the phenomenal rise of Nigerian music stars as they conquer international stages and sell out arenas across the globe. Read about the achievements of Burna Boy, Wizkid, Davido, Tiwa Savage, and Yemi Alade, and how they are making Nigeria proud in the global music scene.
Burna Boy, the talented music superstar and Grammy award winner, recently made history by selling out the London Stadium. With 60,000 fans in attendance, Burna Boy became the first African artiste to achieve such a feat in the United Kingdom. The concert was part of his 'Love, Damini' World Tour, and he mesmerized the crowd with his hit songs, including the chart-topping 'YE'.
Wizkid's Dominance At The O2 Arena
Wizkid, the pacesetting Nigerian musician, showcased his immense popularity by headlining a sold-out concert at the London 02 Arena. Within 12 minutes of ticket sales, all tickets were sold out, leading to the extension of the show for two more days. Wizkid's 'Made in Lagos' concert generated a record N5.2 billion in gross earnings, attracting international celebrities and featuring special performances from artists like Chris Brown. Wizkid's remarkable success has opened doors for Nigerian music artists to perform at bigger venues and earn higher revenues.
Davido's Sell-Out Concerts And Global Recognition
Davido, known for his timeless album releases, has also captivated audiences with his electrifying performances. He recorded sell-out crowds at the 20,000-capacity O2 Arena in London and garnered massive support even in places like Suriname, a South American state. Davido's music resonated with a crowd of 10,000 fans, solidifying the global reach of Nigerian music. His performances at the Wireless Festival in the UK and his 'Locked Up' tour in the United States further established his reputation as a globally recognized artist.
Tiwa Savage's Remarkable Performance At King Charles III Coronation Concert
Tiwa Savage, known as the African Bad Girl, made history as one of the few artists globally and the only Nigerian to perform at the King Charles III Coronation concert. She has also headlined her own concerts, including a sold-out show at the 3,000-capacity Indigo at the O2 Arena. Tiwa Savage's popularity and influence continue to soar, with fans eagerly anticipating her performances and supporting her endeavors.
Yemi Alade's Underrated Success And European Tour
Yemi Alade, often referred to as Mama Africa, has embarked on a successful tour of Europe, showcasing her talent and captivating audiences across major cities. Notably, she sold out the 1,500-capacity Melkweg Centre in Amsterdam, Netherlands, a venue known for hosting established acts. Yemi Alade's achievements may have flown under the radar, but her numbers and performances prove that she stands tall alongside other Nigerian music stars.
Nigerian music stars, including Burna Boy, Wizkid, Davido, Tiwa Savage, and Yemi Alade, continue to make Nigeria proud on the global music stage. Their phenomenal rise and ability to sell out concerts and arenas worldwide are testament to their immense talent, hard work, and the growing acceptance of Afrobeats as a global music genre.
These artists have transcended borders and brought Nigerian music to the forefront of the international music scene. Burna Boy's historic achievement at the London Stadium, Wizkid's dominance at the O2 Arena, Davido's sell-out concerts and global recognition, Tiwa Savage's remarkable performance at the King Charles III Coronation Concert, and Yemi Alade's underrated success and European tour all contribute to the expanding influence of Nigerian music.
The impact of these Nigerian artists goes beyond just music. They serve as cultural ambassadors, promoting the rich Nigerian heritage and showcasing the diversity and creativity of the African continent. Through their performances, they break barriers, bridge cultures, and inspire a new generation of musicians.
In an era where streaming platforms like Apple Music, Spotify, and Deezer play a crucial role in music consumption, Nigerian artists have achieved significant streaming numbers, further fueling their global appeal. The prospect of sold-out shows at iconic venues like Wembley and the AT&T Stadium no longer feels like an impossible dream.
As these artists continue to captivate audiences worldwide, their success opens doors for other Nigerian musicians to explore international markets and earn substantial revenues from music tours. The global recognition of Nigerian music has created a platform for African artists to showcase their talents on a global scale, cementing their place in the global music industry.
The journey of Nigerian artists who have sold out concerts abroad is a testament to their dedication, talent, and the power of music to transcend borders. Their achievements serve as inspiration for aspiring musicians not only in Nigeria but across the African continent and beyond.
As the world embraces the vibrant sounds of Afrobeats and Nigerian music continues to resonate globally, these artists and their groundbreaking achievements are a reminder that talent knows no boundaries and that music has the power to bring people together, regardless of their backgrounds.
The rise of Nigerian artists who have sold out concerts abroad is a testament to their exceptional talent, hard work, and the growing popularity of Afrobeats. Burna Boy, Wizkid, Davido, Tiwa Savage, and Yemi Alade have made significant contributions to the global music scene, captivating audiences with their electrifying performances and leaving a lasting impact on the industry. As their influence continues to expand, they are reshaping perceptions of Nigerian music and paving the way for future generations of artists to shine on the global stage.