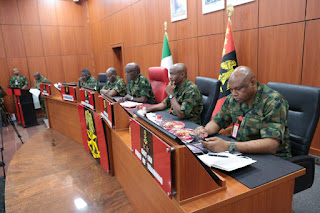 Lieutenant General Taoreed Lagbaja, the Chief of Army Staff (COAS) for the Nigerian Army (NA), emphasizes the importance of incorporating emerging technologies to enhance operational efficiency within the organization.
The COAS stated this today Tuesday 8 August 2023, at the Army Headquarters during a paper presentation, titled "Emerging Technologies and Operational Efficiency: Implications for the Nigerian Army by 2035", presented by participants of the National Defence College (NDC) Course 31.
Commending the participants for a well researched paper, the Army Chief pointed out, that the paper presentation will revitalize the consciousness of emerging technologies and its implications for operational efficiency.
Director Army Public Relations, Brigadier General Onyema Nwachukwu noted that the Army Chief disclosed, that the Nigerian Army as a sub system of the larger society is already keying into emerging technologies in its institutions and establishments, adding that the NA will sustain the development, as it cannot divorce itself completely from the dynamics of both its internal and external environment.
The COAS averred, that employing emerging technologies has provided the Nigerian Army with improved surveillance capability, enhanced communication, efficient data management, situational awareness and strategic decision-making.
Earlier, the Commandant National Defence College, Rear Admiral Olumuyiwa Olotu, stated that the presentation unveils the potentials of emerging technologies in significantly impacting on present and future operational engagements of the NA.
He noted that as technologies continue to advance, the NA must continue to adopt and integrate evolving innovations, in other to maintain a competitive edge in the theatres of operations.
He asserted, that the NA must continue to aspire to be a driver of technological changes, while constantly provding emerging technologies to enhance decision-making for operational efficiency.
The event was climaxed with the presentation of a hard copy of the research paper to the COAS.