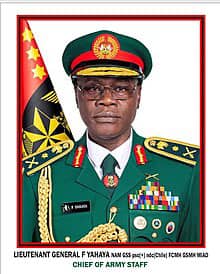 The Chief of Army Staff (COAS), Lt. – General Farouk Yahaya, has said that Nigeria has recorded its highest rating against terrorism since 2011.
General Yahaya stated this Monday at the opening ceremony of the Chief of Army Staff first quarter conference in Abuja.
The army chief attributed the success to synergy among the services and deployment of well trained personnel and special equipment.
He said: "Our efforts in Operation HADIN KAI in synergy with the sister services and other security agencies have no doubt have significantly curtailed terrorism and insurgency that hitherto bedeviled the North east part of the country.
"Our continuous injection of specially trained troops and special equipment through Operations LAKE SANITY and DESERT SANITY to complement efforts by Operation HADIN KAI has been rewarding. The insurgents and terrorists no longer have freedom of action and that has amongst other benefits resulted in massive surrender by the adversaries.
"These efforts expectedly have enhanced troops poise and greatly improved the security situation and public confidence in the North east. It is on record that last year, Nigeria attained its best record against terrorism since 2011. Put differently, in the past 11 years, from 2011 to date, Nigeria recorded its highest rating against terrorism last year, 2022."
The COAS also said, the peaceful conduct of general elections across the country including in the South East despite the sense of insecurity created by criminal elements in the region, is a testament of the Nigerian Army resolve to ensure security in the entire Nation.
According to him, this was made possible through successful conduct of Operation Safe Conduct 2023 across the nation which saw the Nigerian Army along with the other Services and agencies ensuring successful general elections.
He warned that elections or no elections, neither IPOB,ESN nor any other group, groups or individuals should threaten the integrity of Nigeria.
"Our additional efforts through Joint Task Force Operation UDO KA paid off in the South East thus ensuring successful elections in the region as well, even though, long before the actual elections, IPOB/ESN and their supporters had threatened that there would be no elections in the Zone," he said.
Speaking further, Yahaya troops of Operation DELTA SAFE deployed in the South South region for safeguarding the commonwealth of the nation.
According to him, the anti-illegal bunkering operations of the Army in collaboration with other security agencies have significantly increased crude oil production in the country to over 1.3 million barrels per day as affirmed by the Organisation of Petroleum Exporting Countries (OPEC) as at March 2023.
"These efforts were also acknowledged by the federal government through a message delivered to troops by the Minister of State for Petroleum and the Group Managing Director of the Nigerian National Petroleum Corporation Limited (NNPCL)," he added.
Source: Blueprint