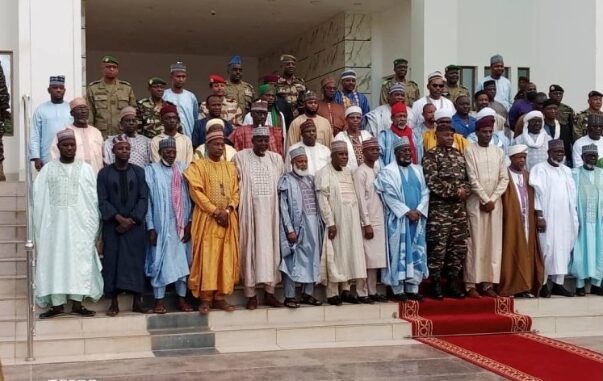 Niger Republic's recent coup leaders have articulated the rationale behind their decision to remove President Mohamed Bazoum from office, emphasizing that their actions were not solely for their own nation but also for the benefit of Nigeria.
Further insights shed light on their choice to not give the first envoy dispatched by President Bola Ahmed Tinubu the level of attention they deserved.
The initial envoy, led by Nigeria's former Military Head of State, General Abdulsalami Abubakar, along with the revered Sultan of Sokoto, Alhaji Sa'ad Abubakar, were part of this delegation.
Confirming this perspective was Sheik Baba Lau, who guided a delegation of Islamic scholars to engage with General Abdourahmane Tchiani in Niamey, the capital of Niger.
In this pivotal meeting, comprehensive discussions unfolded concerning President Bazoum's ousting and the demand from the Economic Community of West African States (ECOWAS) to reinstate him.
General Tchiani, extending a warm reception to the delegation, reaffirmed his willingness to explore diplomatic avenues for peaceful conflict resolution.
However, a sense of disappointment resonated among the coup leaders due to ECOWAS leaders not affording them an opportunity to present their perspective prior to issuing ultimatums.
The coup leaders maintained that their actions were guided by noble intentions – to avert imminent threats that would have impacted not only Niger Republic but also Nigeria.
Apologies were extended for not granting the initial envoy from President Tinubu the attention they deserved, a reaction fueled by their discontent with the ECOWAS ultimatum.
Tracing historical ties between the two nations, General Tchiani emphasized the fraternal bond shared by Niger Republic and Nigeria, advocating for amicable issue resolution.
Lau, the National Chairman of Jamatul Izalatu Bida Waikamatu Sunnah, conveyed that the clerics' presence in Niger was at the behest of President Tinubu, who embraced their plea for intervention.
He articulated the team's position that the political deadlock in Niger could be resolved through dialogue, as conveyed earlier to President Tinubu, who also chairs the ECOWAS Heads of State and Government Authority.
The visit aimed to foster constructive dialogue and encourage General Tchiani and his fellow military leaders involved in the coup to prioritize peaceful resolution over conflict.
In post-meeting discussions with the press in Niamey, Sheik Ahmad Abdulrahman, a key member of the intervention team and Chief Missioner of Ansarudeen Society of Nigeria, clarified that contrary to certain media reports, both parties engaged in fruitful discussions.
Abdulrahman stated, "We shall return home to apprise President Tinubu of our discussions and underscore the imperative of peaceful resolutions over conflict. War, we believe, carries no benefits, and peaceful resolution should prevail."
The delegation comprised scholars representing diverse Islamic sects across the country, including Sheik Kabiru Gombe, Secretary of Jamatul Izalatul Bida Waikamatul Sunnah; Sheik Yakubu Musa Hassan Katsina, Director Daawah, JIBWIS; Sheik Ibrahim Dahiru Bauchi; and Dr. Khalid Aliya, Secretary General of Jammatul Nasril Islam.
Others included Sheik Karibullah Nasiru Kabara, Leader of the Khadriya Group in Nigeria; Sheik Ahmad Abdurahman; Professor Salisu Sheri, Deputy Secretary-General of the Supreme Council for Islamic Affairs; Sheik Nasiru Abdul Muhayuid, Director Admin, JIBWIS, Jos; Professor Mansur Sokoto; and Alhaji Mele Kyari.