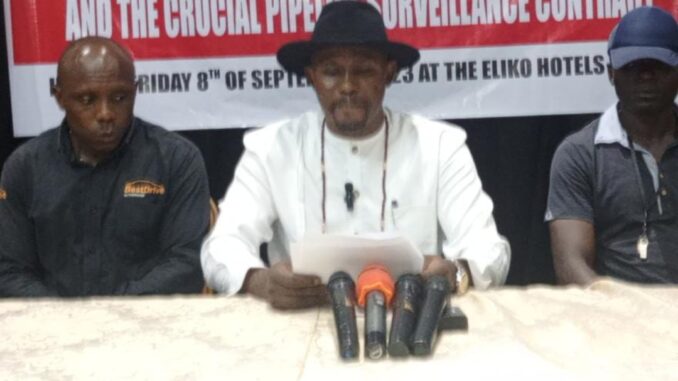 The Coalition of Niger Delta Youth Groups, has back the award pipeline surveillance contract to the Nigerian National Petroleum Corporation Limited (NNPCL), to ensure a brighter future for the region and Nigerians.
The Coalition also unequivocally expresses its unwavering support and confidence in the leadership of Nigerian National Petroleum Company Limited (NNPCL) under the able stewardship of Mele Kyari.
The Coalition made this pledge in a press statement signed by its National Coordinator of Niger Delta Youth Congress (NDYC), Comrade Israel Uwejeyan; National President of Isoko Youth Forum, Prince Brozie Utomodo; Convener of South-south Youth Vanguard, Barr. Preye Oporomo; and Mr. Valentine Ugboli, National Coordinator of Niger Delta Youth Movement for Youth Empowerment, shared with journalists in Abuja on Friday.
According to the coalition, our unified efforts will continue to ensure that the benefits of the pipeline surveillance contract are maximized for the well-being of all Nigerians.
They noted that the Kyari's endorsement is founded on the remarkable strides achieved through the pipeline surveillance contract, which has proven to be a game-changer for Nigeria.
According to the statement, "The pipeline surveillance contract has yielded manifold benefits, foremost among them being its significant impact on our oil production capacity.
"The reduction in oil bunkering not only safeguards our precious resources but also has a far-reaching positive effect on the environment, mitigating the devastating ecological consequences of oil spills.
"Perhaps most importantly, the pipeline surveillance contract has become a wellspring of employment opportunities for the youth of the Niger Delta region. It has created both direct and indirect jobs, offering our young people a chance at meaningful livelihoods, thereby reducing the allure of illicit activities driven by unemployment.
"It has come to our attention that there are individuals engaged in orchestrated protests against the leadership of the NNPC and the pipeline surveillance contract. We wish to emphatically state that these dissenting voices are in the employ of oil thieves and bunkerers who seek to disrupt the progress we have made. It is essential to recognize that dissenting voices, often driven by vested interests, should not deter us from the path of progress," the statement partly reads.
The groups further appeals to the leadership of the NNPCL to include the Isoko Ethnic Nationality in the Pipeline Surveillance contract, adding that, "The Isoko people are major oil producers, and their commitment to maintaining peace and safeguarding oil facilities is evident through years of responsible coexistence with the industry.
"We believe it is both fair and just to recognize the Isoko ethnic nationalities by involving them in pipeline surveillance contracts. Doing so would not only reward their years of dedication but also strengthen the bond between the oil industry and the local communities."