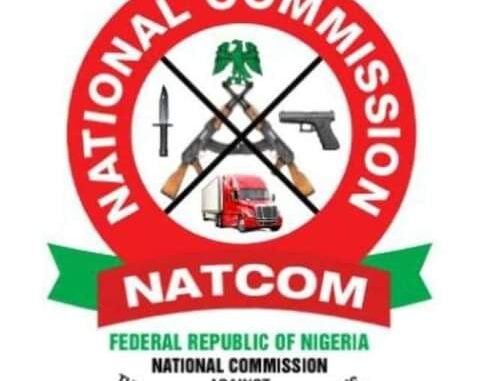 The National Commission for the Co-ordination and Control of the Proliferation of Small Arms, Ammunition, and Light Weapons (NATCOM) has taken decisive action against a group of individuals falsely claiming to be NATCOM officials.
These imposters have been engaging in illegal activities such as issuing fraudulent appointment letters, extorting money from unsuspecting job seekers, and masquerading as legitimate representatives of NATCOM.
In an official statement released to the press, Commodore Idris E. Usman (Rtd), Chairman of the Enquiries and Disciplinary Committee, urged the public to disregard these fraudulent individuals and refrain from conducting any business with them on behalf of the commission.
Promptly addressing the seriousness of the situation, NATCOM has suspended the individuals involved in this illicit operation pending a thorough investigation. The commission is determined to hold them accountable for their misconduct and prevent any further harm.
The following officials have been implicated in this scandal and are now subject to investigation:
Alaji Joseph Achimi – Coordinating Director, Human Resources, Daniel Sule – Director, International Cooperation and Protocol, Dalhatu Hammawa Dauda – Head of Special Squad, National Headquarters, Agada Iduh Fidel – Benue State Command, Festus Omaoka – FCT Command, Felix Effiong – Cross River Command, Joshua Uturu – Lagos State Command, Steve De Great – Imo State Command, Mujitafa Abdullahi – Katsina State Command, Omata Sunday – Kogi State Command, Ikhike Mohammed Anthony – Delta State Command.
NATCOM , however reaffirms its commitment to upholding the law and maintaining the highest standards of integrity.
The commission operates within the legal framework and condemns any form of illegal activity. By taking swift action against these individuals, NATCOM aims to restore public trust and confidence in its operations.
Amidst the security challenges faced by Nigeria, NATCOM remains resolute in its pursuit of a safer nation. With the diligent efforts of the entire commission, NATCOM is confident that these issues will be effectively addressed, leading to a more secure future for Nigeria and its citizens.