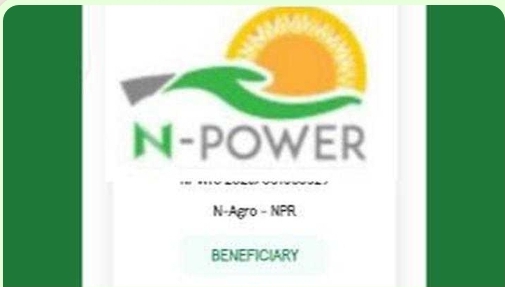 By Tambaya Julius
In a recent turn of events, Nasims has swiftly addressed concerns stemming from an earlier update on their self-service portal.
A few weeks back, a modification carried out by Npower Nasims had inadvertently led to a change in the beneficiary information displayed on the portal.
Disconcertingly, the beneficiaries found themselves reclassified as mere applicants.
However, marking a milestone on this 18th day of August in the year 2023, Nasims has taken decisive action.
The status of N-power batch C beneficiaries has been successfully reinstated to its rightful position as "BENEFICIARY" following the comprehensive update.
The beneficiaries are now cordially invited to access the Nasims portal, where they can securely authenticate their prevailing status.
Adding to this development, a notable change has transpired within the Ministry entrusted with the oversight of the Npower programme.
Embracing this new chapter, the Ministry of Humanitarian Affairs and Poverty Alleviation proudly welcomes Dr. Betta Edu as its new Minister.
In light of these promising transformations, our expectations align with the revitalization of the Npower program to recapture its former splendor.
Moreover, there's a renewed optimism that the prolonged issue of unpaid stipends, spanning an arduous period of eight months, will be effectively addressed.
As the sun sets on the 18th of August in 2023, Nasims has heralded an inspiring reversal, echoing across the realms of the N-power initiative.
The echoes of change, sparked by the inadvertent alteration of beneficiary designations in the recent past, have now evolved into a harmonious symphony of reclamation.
The pages of history have been rewritten today, as the indomitable spirit of Nasims triumphs.
Amidst an intricate technological landscape, the determined efforts of Nasims technicians have successfully reinstated the rightful status of N-power batch C beneficiaries to their esteemed position as "BENEFICIARY."
This triumphant endeavor, undertaken with meticulous attention, ushers beneficiaries back into the folds of their earned recognition.
In consonance with this momentous event, Nasims extends a heartfelt invitation to all beneficiaries, urging them to partake in a voyage of validation.
By embarking on a journey through the Nasims portal, beneficiaries can securely navigate their pathways to confirmation.
This affirmation marks not only their status but also their persistent commitment to the principles of empowerment.
Moreover, as the sun rises on this new chapter, a distinct figure emerges to guide the trajectory of transformation.
Dr. Betta Edu assumes the mantle of leadership within the Ministry of Humanitarian Affairs and Poverty Alleviation, adding a fresh layer of anticipation to this unfolding saga.
The future stands poised on the precipice of promise.
With Nasims steering the way, the Npower program is poised for resurgence.
It is a resurgence that promises to reclaim its zenith, reigniting the flames of its erstwhile magnificence.
And in the same breath, there is an air of expectancy that the long-drawn predicament of unpaid stipends, casting shadows over eight protracted months, shall finally be cast asunder.