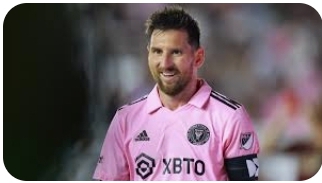 By Tambaya Julius
Lionel Messi, the iconic Argentine football sensation, has found a new source of happiness through his association with Inter Miami, a dynamic Major League Soccer (MLS) club located in the vibrant state of Florida, United States.
In a recent interaction with the local media, Messi expressed his renewed sense of contentment since his arrival in Miami.
This transition, he revealed, stands in stark contrast to his move from Barcelona to Paris Saint-Germain, emphasizing the positive shift in his career trajectory.
Since joining the MLS, Messi's impact has been profound, as evidenced by his remarkable record of netting nine goals in just six appearances for Miami.
This remarkable achievement follows his illustrious two-season tenure with Paris Saint-Germain in France.
At a press conference adorned with smiles and a relaxed demeanor, Messi opened up about his South Florida experience and drew comparisons to his time in the French capital.
Reflecting on his transfer to Paris, he confessed, "My departure to Paris wasn't a decision I actively sought.
Leaving Barcelona and adapting to a new city and sporting environment was a challenging process.
However, my current journey in Miami is the complete opposite of that experience."
This optimism resonates even more strongly as Messi prepares for a significant milestone his chance to secure his inaugural trophy with Miami.
The upcoming Leagues Cup final against Nashville on Saturday holds the potential for Messi to clinch victory, marking a historic accomplishment for the club, which is merely in its third season of existence.
Amidst the anticipation and fervor surrounding his impact on soccer's growth in the United States, Messi remains grounded in his perspective, asserting that his primary focus is on enjoying both the game and life itself.
"I'm here to play and relish football, a passion I've cherished throughout my life. The decision to come here was driven by this desire, above all else," Messi stated.
With a focus on fostering excellence, Messi's contentment is not limited to his professional pursuits.
He radiates satisfaction in his family life and daily experiences, relishing the vibrancy of the city and the warmth of its people.
Whether in Miami or during away games, Messi has been embraced by fans and communities alike, further solidifying his gratification with this new chapter.
Messi's association with Inter Miami has blossomed into a narrative of joy, triumph, and personal fulfillment.