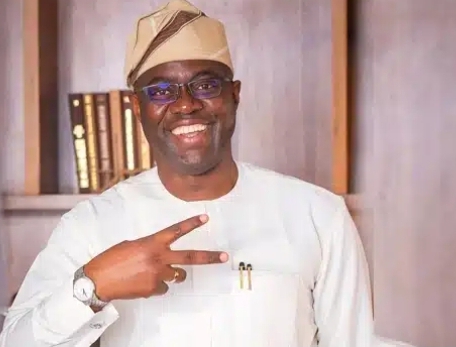 Oyo State Governor, Seyi Makinde, appeared to hit former Vice President, Atiku Abubakar when he said he prefered to go to Aso Rock where refund to the state is guaranteed than Yola, Adamawa State, the home state of Atiku.
States usually lobby to get federal government refunds if they execute repairs or reconstruction of federal roads. It has been a practice since 1999, when the country returned to democratic rule.
Oyo state under Makinde, had undertaken the repairs of some federal roads.
The government explained that his visit to the villa was to lobby for refunds.
But in explaining that on Friday, he took a jibe at Atiku while flagging off the dualisation of 8.3km Akobo, Ojurin/Odogbo Barracks, Olorunda Abas Junction of the state.
Atiku emerged the presidential candidate of the PDP in May 2022 defeating then Rivers State Governor, Nyesom Wike to second place.
The former vice president also rejected the idea of making Wike his running mate which further widened the political crisis in the PDP.
Makinde is a strong political ally of Wike, together they formed the G-5, involving five governors on the platform of the Peoples Democratic Party, PDP, to oppose Atiku's candidacy in the 2023 elections.
He has since the inauguration of Bola Tinubu as president on the platform of the All Progressives Congress, APC, visited the presidential villa four times, alongside Wike.
Following his frequent visit, he has been pilloried by critics for abdicating his responsibilities.
He responded to that criticism on Friday, saying, "As I go to Abuja to see the President, I know some people have been saying that since the inauguration of the new President, I have gone to Aso Rock about four times within a week.
"Where do you want me to go? Is it Yola you want me to go?
"Well, I will continue to go to where they will be able to refund Oyo State the monies we have spent on federal roads. So, I will continue to go to Aso Rock to plead for a refund.
"So, Mr Chairman of Lagelu local government, as soon as I collect my refund from the Federal Government, you too come and meet me to have your refund,"