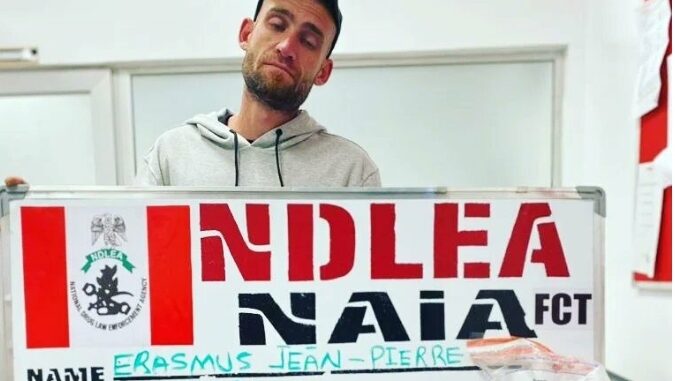 By Tambaya Julius
In a recent operation at the Nnamdi Azikiwe International Airport, Abuja, the NDLEA successfully arrested Erasmus Jean-Pierre, a 29-year-old South African national, while he attempted to export a staggering 2.6 kilograms of methamphetamine to the Middle East.
The apprehension of Jean-Pierre took place during the outward clearance of passengers on Ethiopian Airlines flight ET 404 from Abuja to the Middle East via Addis Ababa, Ethiopia.
NDLEA operatives acted swiftly and efficiently during this operation.
A meticulous search of Jean-Pierre's luggage led to the discovery of a significant quantity of methamphetamine concealed in various sections of his bag.
The powdery substance, with a whitish appearance, was expertly packed to avoid detection.
Preliminary investigations have shed light on the suspect's movements. Jean-Pierre arrived in Lagos from Abidjan, Côte d'Ivoire, on Saturday, 19th August.
Subsequently, he traveled to Abuja on Tuesday, 22nd August, and acquired the brown bag containing the illicit drugs on Wednesday, 23rd August, just before embarking on his journey out of Nigeria.
This apprehension is part of a broader effort by the NDLEA to combat drug trafficking within Nigeria.
Recent successes include the following:
Gombe State: NDLEA officers on patrol along the Darazo road made a remarkable discovery on Monday, 21st August.
They found an abandoned Volkswagen Sharon vehicle marked GME 76 XD, which contained an astonishing 373,420 pills of opioids, including tramadol and diazepam.
Ogun State: On Wednesday, 23rd August, NDLEA operatives raided the residence of a drug dealer, Ifeanyi Orji, in the Ibafo area of the state.
This operation led to the recovery of 81,000 tablets of tramadol 225mg, weighing 32.4 kilograms.
Adamawa State: On Tuesday, 22nd August, NDLEA operatives intercepted a suspect named Ibrahim Abba, 25, who was traveling in a commercial Toyota Starlet car from Kalaa village to Mubi.
Their search uncovered 60,000 pills of tramadol in his possession.
Federal Capital Territory, Abuja: In a significant operation, NDLEA operatives intercepted two consignments of skunk with a combined weight of 1,242.1 kilograms.
The first consignment, weighing 665.1 kilograms, was seized from a truck around Area 3 on Sunday, 20th August.
The second, weighing 577 kilograms, was recovered during a stop and search operation along the Lokoja-Abaji expressway on the same day.
These drugs were concealed within Jumia goods delivery packs inside a container Mercedes truck, leading to the arrest of the driver, Yusuf Yakubu Asokomhe, and his assistant, Tunde Ogundare.
It is imperative that such efforts persist to safeguard the nation from the devastating consequences of drug-related activities.