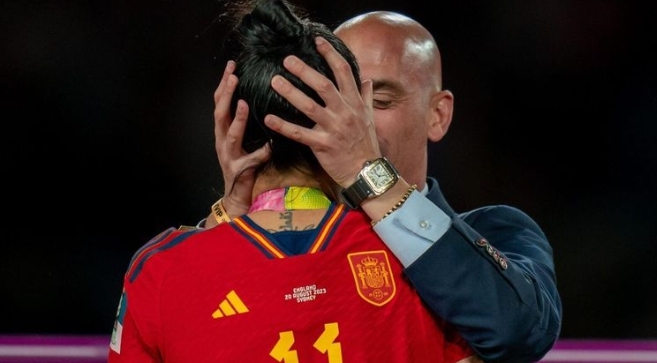 By Tambaya Julius
In a surprising turn of events, FIFA has decided to suspend Luis Rubiales, the President of the Spanish football federation, for a period of 90 days.
The suspension stems from a controversial incident that occurred during the medal ceremony following Spain's victory in the Women's World Cup final, hosted by Australia and New Zealand.
The controversy revolves around a kiss that Rubiales planted on the lips of midfielder Jenni Hermoso during the said medal ceremony.
While Hermoso claimed that the kiss was consensual, Rubiales' perspective differed significantly.
The Chairman of the FIFA Disciplinary Committee, Jorge Ivan Palacio, invoked Article 51 of the FIFA Disciplinary Code (FDC) to provisionally suspend Mr. Luis Rubiales from all football-related activities at the national and international levels.
This suspension, effective immediately, will last for an initial period of 90 days, pending the disciplinary proceedings initiated against Rubiales on Thursday, August 24.
Jorge Ivan Palacio, in an effort to safeguard the fundamental rights of national soccer team player Jennifer Hermoso and maintain the integrity of the disciplinary proceedings, issued two additional directives (Article 7 FDC).
These directives explicitly instructed Mr. Luis Rubiales to refrain, whether personally or through intermediaries, from contacting or attempting to contact Jennifer Hermoso or her close associates.
Palacio's directives extended beyond Rubiales, calling on the RFEF (Royal Spanish Football Federation) and its officials or employees to abstain from contacting Jennifer Hermoso or her close associates through any means.
The Chairman of the FIFA Disciplinary Committee has promptly communicated this decision to Mr. Luis Rubiales, the RFEF, and UEFA to ensure its proper implementation.
FIFA, in its statement, reiterated its unwavering commitment to upholding the integrity of all individuals and unequivocally condemned any behavior to the contrary.