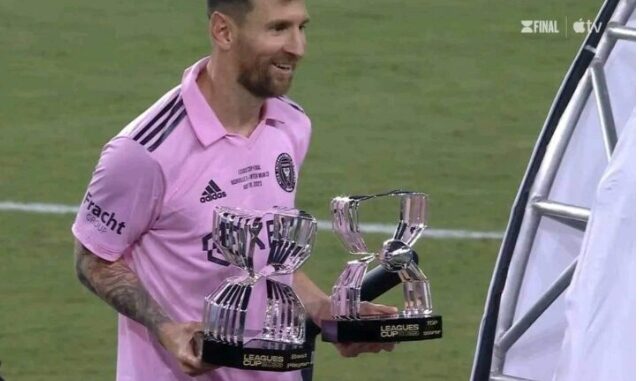 By Tambaya Julius
In an electrifying showdown, Lionel Messi's Inter Miami claimed victory in the Leagues Cup final, securing his astounding 44th trophy in a dazzling display of talent and determination.
The match, which ended in a 1-1 tie, was ultimately settled through a nail-biting 10-9 penalty shootout.
The Argentine megastar exhibited his prowess early in the game, opening the scoring in the 23rd minute with a spectacular long-range shot that left multiple defenders in awe, finding the top left corner of the net.
This marked his 10th goal in the inaugural tournament, a testament to his unmatched skill and precision.
Nashville's Fafa Picault answered Messi's call, leveling the score in the 57th minute, setting the stage for a rollercoaster second half.
Both teams came agonizingly close to seizing the lead, creating an atmosphere of suspense and excitement.
In a dramatic turn of events, Nashville's goalkeeper, Elliot Panicco, missed the final kick of the night, paving the way for Inter Miami to claim their first-ever trophy since joining the league in 2020.
Messi's elated teammates jubilantly tossed him into the air, while co-owner David Beckham celebrated with triumphant fist pumps.
Miami's goalkeeper, Drake Callender, emerged as the man of the match, saving two crucial penalties during the shootout and confidently converting his own.
His exceptional performance reflected the dedication and resilience of the entire team.
Despite Miami's lackluster record in MLS this season, Messi's arrival has sparked an offensive explosion, resulting in an astonishing 22 goals scored in their last seven games.
Lionel Messi's 44th trophy is a historic milestone, making him the player with the most trophies in the history of the sport.
This includes an illustrious list of accolades, such as 10 La Liga titles, four Champions League victories, seven Copa Del Reys, and numerous other prestigious awards.
Notably, Messi was named the player of the tournament, a well-deserved honor considering his exceptional contributions throughout the competition, which features teams from both MLS and Liga MX.
Miami's head coach, Gerardo "Tata" Martino, praised both teams for their outstanding performance and acknowledged the fairness of the tie that led to the dramatic penalty shootout victory.
Under Martino's leadership and with the addition of Messi's former Barcelona teammates Jordi Alba and Sergio Busquets, Inter Miami has not only claimed their first trophy but also secured a coveted CONCACAF Champions League berth through their remarkable Leagues Cup run.
Reflecting on their journey, Coach Martino expressed his admiration for the team's ability to come together, overcome challenges, and achieve greatness.